iDevices and Jennie-O Brand Make Preparing Perfectly Cooked Turkey Easier Than Ever For Busy Cooks
---

Brands Partner to Introduce Innovative Kitchen Tool to Ensure Safe, Delicious Family Meals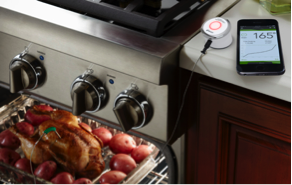 Avon, Conn. and Willmar, Minn. (Aug. 11, 2014) — iDevices®, a leading product and app development company specializing in the Bluetooth® and Wi-Fi connected market, is teaming up with Jennie-O, a brand on a mission to show the world how easy it is to eat well with turkey. The brands are coming together to help make it easier than ever for busy cooks to prepare safe, delicious turkey meals with iDevices' Bluetooth® Smart thermometers, the iDevices Kitchen Thermometer and Kitchen Thermometermini.
Beginning in August, consumers will have the opportunity to receive a discount on iDevices Kitchen Thermometers when they purchase select JENNIE-O® turkey products, with a valuable $10-off on-pack product coupon. The iDevices Kitchen Thermometers allow cooks to remotely monitor the temperature of meat and eliminate the need to hover over the oven or grill while perfectly cooking turkey to 165º F, making it easier to multitask on hectic weeknights or while entertaining guests.
Select 'Turkey' in iDevices Kitchen Thermometer for fully cooked, tender turkey
By selecting the 'Turkey' preset in the free iDevices Connected app, iDevices Kitchen Thermometer users can monitor the temperature of their food via Bluetooth technology from up to 150 feet away. The user will even receive an alert through the app once turkey is fully cooked and ready to take out of the oven or off the grill. Thanks to these helpful features, cooks can focus on preparing other parts of a meal without worrying about under- or over-cooking its centerpiece.
Using iDevices' Bluetooth meat thermometers to fully cook poultry to 165°F not only ensures a safe dining experience, but also helps home cooks achieve the perfect, never-dry tenderness the whole family will love — and it has never been easier.
"We are proud to partner with Jennie-O to help educate consumers about the importance of food safety and how to perfectly cook nutritious JENNIE-O® turkey with the help of an iDevices Kitchen Thermometer" said Lianne Kersey, marketing manager, iDevices, LLC.
Jennie-O puts the highest priority on ensuring its customers receive a high-quality, delicious product. The brand strives to provide consumers with the knowledge to properly prepare and cook turkey and offer their families nutritious meals.
"Our latest partnership with iDevices helps us to provide busy cooks the information they need to prepare great-tasting meals for their families and add a new level of convenience to their cooking routine," said Jen Ehresmann, director of marketing at Jennie-O. "An easy-to-use meat thermometer is a simple, hassle-free tool that can help ensure turkey is fully cooked to a delicious 165°F each and every time."
Food safety tips for delicious turkey meals
Jennie-O and iDevices offer these five easy rules for safe cooking: clean, separate, cook, chill and don't forget—enjoy!
1) Clean – Safety begins with a clean cooking space. Use warm, soapy water to wash anything raw poultry touches, including cutting boards, plates or serving platters, countertops and other surfaces, food thermometers, grilling utensils — and most importantly — your hands.
2) Cook – Always fully cook poultry to destroy any bacteria that could cause foodborne illness. Using a meat thermometer is the most accurate way to determine when meat is ready to enjoy. Cook poultry to at least 165°F as measured by a meat thermometer, such as the iDevices Kitchen Thermometer, to ensure a safe and delectable dining experience.
3) Separate – Use separate cutting boards for poultry, meat, seafood and vegetables to avoid the spread of bacteria. Store raw poultry in sealed containers to make sure juices don't contaminate other foods. Never reuse a marinade that has previously been used on raw poultry. Instead, create a fresh marinade for each new batch of meat.
4) Chill – When storing raw poultry, set your refrigerator to 40°F or lower. Never thaw poultry at room temperature or on the counter. Thaw in the refrigerator in sealed containers and keep it no more than two to three days before cooking. Refrigerate leftovers within two hours of cooking and eat within one to two days.
5) Enjoy! – Following these simple food safety rules makes it easy to achieve the best possible taste for a wholesome meal the entire family will enjoy.
For further information on cooking with turkey, visit JennieO.com and look for the iDevices Kitchen Thermometer sticker on packages of JENNIE-O® lean ground turkey.
The iDevices Kitchen Thermometer and Kitchen Thermometer mini may be purchased at iDevicesinc.com for $79.99 and $39.99, respectively. For more information, please visit www.iDevicesinc.com, Twitter: @iDevices, Facebook: www.facebook.com/iDevicesConnectedKitchen or YouTube: www.youtube.com/user/idevicesinc.
About iDevices, LLC
iDevices began its journey with the conception and development of the iGrill®, one of the first app-enabled devices, following with the launch of the popular iShower® water-resistant Bluetooth® speaker. Following these successful launches, iDevices emerged as a premier development and consulting company for the app-enabled market. iDevices has integrated all required resources in-house to create and launch app-enabled products, both independently and with partner companies. For more information, see www.idevicesinc.com.
About Jennie-O Turkey Store, Inc.
Jennie-O Turkey Store, Inc., based in Willmar, Minn., is a wholly owned subsidiary of Hormel Foods Corporation (NYSE:HRL) and one of the largest turkey processors and marketers in the world. It offers an array of more than 1,500 high quality fresh, frozen, refrigerated and deli turkey products that are distributed throughout the United States and 27 countries worldwide. JennieO.com
Jennie-O Turkey Store, Inc. is not responsible for the operation of the iDevices Kitchen Thermometers or its compliance with safety and regulatory standards.
###