iDevices® becomes one of the select few smart home brands to offer cross-compatibility with Siri®, Alexa and now the Google Assistant .
Avon, Conn. – May 9th, 2017 – iDevices®, the preeminent brand in the connected home industry, announces the compatibility of its connected home products and app with the Google Assistant. This announcement makes iDevices one of the first and few brands to offer compatibility across all three of the most popular smart home platforms; Apple HomeKit™, Amazon Alexa, and now the Google Assistant. Users can now control iDevices products with a simple command like "Ok Google, turn on the lights" to a Google Home voice-enabled speaker powered by the Google Assistant.
With one of the largest smart home product lineups requiring no hub, and one of the few apps allowing for the control of all HomeKit products with no subscription fees required, iDevices has quickly gained home automation market leadership. iDevices has been leading the charge to make the smart home accessible to all by offering cross-platform compatibility in conjunction with a robust app and IoT Cloud Infrastructure. Their latest in-wall products (Wall Switch, Dimmer Switch and Wall Outlet) demonstrate the company's commitment to make smart home products that integrate seamlessly and invisibly into users' worlds. These products are also designed to evolve, so the product a customer buys can be updated well after their purchase.
"The smart home ecosystem continues to evolve, and we are evolving with it," says Chris Allen, iDevices' CEO. "Our unique software architecture allows us to expand compatibility easily and quickly, so we continue to offer a comprehensive smart home solution to consumers. When people think 'smart home', words like 'simple', 'easy-to- use' and 'helpful' should come to mind. We've made it easier than ever to adopt the smart home, no matter what kind of system you prefer to use."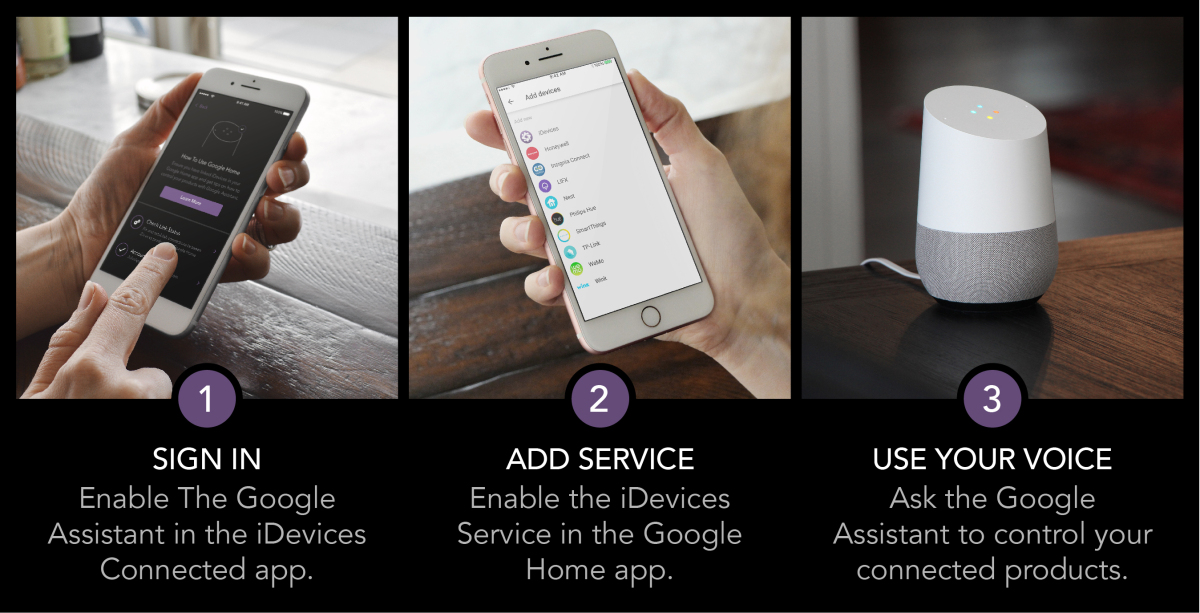 Setting up the Google Assistant for iDevices products is simple. Google Home or Google Pixel users first need to download the iDevices Connected App from the App Store or Google Play, and enable the Google Assistant within the settings section of the iDevices app. Next, users must enable the iDevices service in the Google Home app to link all products.
For more information on iDevices and its products, visit iDevicesinc.com. Media members interested in more information can contact Meghan Petchel at meghanpetchel@maxborgesagency.com.
# # #
iDevices®, the preeminent brand in the smart home industry, is making IoT accessible to everyone with their premium line of Wi-Fi® and Bluetooth®-enabled products. With a comprehensive set of both plug-and-play and in-wall solutions, iDevices manufactures connected power, lighting, and climate control solutions for homeowners, professional installers, and builders alike. Their world-class team of in-house engineers and software developers maintain a forward-looking approach to in-field upgrades and platform integration; ensuring their products always remain at the forefront of home automation. iDevices seamlessly connects people to their worlds with sophisticated technology that enhances everyday life. For more information, visit iDevicesinc.com.
# # #
iDevices Media Contact:
Meghan Petchel
meghanpetchel@maxborgesagency.com
305-374-4404 x 162