iDevices Launches iShower2 to Shake Up Your Morning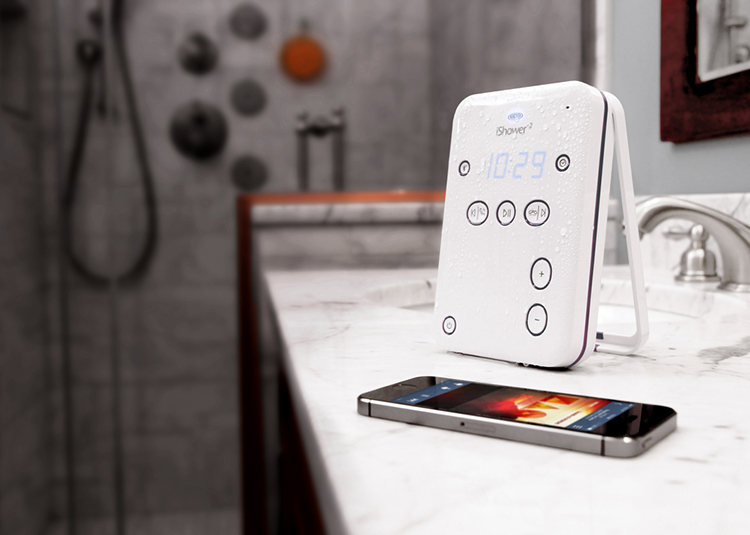 Enjoy your favorite music in the shower, from your mobile device.
Avon, Conn. – October 21, 2014 – iDevices®, www.iDevicesinc.com, the preeminent brand and development partner in the Internet of Things (IoT) market, announces the newest addition to its growing line of connected products, the iShower². The iShower2 joins the iDevices product suite, which includes the iGrill2, iGrillmini and Kitchen Thermometer, as well as an earlier announced HomeKit compatible product said to launch later this year.
The iShower2 pairs wirelessly with Bluetooth® enabled devices to deliver high-quality sound right to your shower. Start the day off right by listening to your favorite audio apps including: music, news, podcasts, sports and more in the shower. As the second generation, the iShower2 features a new speakerphone functionality, extended battery life and improved sound quality for the same price of $99.99.
"We're constantly creating new products and improving existing ones intended to make life easier and our homes smarter. It's really all about the experience, and who doesn't love to sing in the shower?" said iDevices marketing manager, Lianne Kersey.
Avoid Water Damage to Electronics with the iShower2
Bringing a smartphone or tablet to the bathroom has become commonplace for those who want to listen to their tunes while in the shower. It's said that a majority of mobile phone failures are due to accidental damage, with the leading cause being water damage. With iShower2's 200-foot Bluetooth range, your phone stays safe and dry, while still giving you control to play, pause, skip tracks and even answer or ignore phone calls.
Simple Pairing Process
Pairing the iShower2 to a Bluetooth mobile device or tablet is simple. Once paired, the user can start listening to their favorite songs, audiobooks or sports game.
iShower2 Product Features:
Stay Connected: The iShower2 has a 200-foot Bluetooth range so you can keep your phone out of harms way while staying connected.
Chat In The Shower: Never worry about missing a phone call again with the iShower2's speakerphone.
Multiple User Profiles: Everyone can listen to their favorite music with five user profiles.
Mounting: With multiple mounting options and water-resistance, you can bring your iShower2 with you.
Controls: The speaker has on-device controls to skip to the next track, replay songs and pause tunes with a simple press of a button.
Clock Display: The speaker has an LED clock display so you'll never run late.
Pricing & Availability:
The iShower² is available for pre-order (shipping November 2014) on www.iDevicesinc.com for $99.99 with free U.S. shipping.
About iDevices, LLC
iDevices began its journey with the conception and development of the iGrill®, one of the first app-enabled devices. Following several successful launches, iDevices has emerged as the premier brand in the Internet of Things industry. iDevices aims to seamlessly connect users to their worlds with responsive products that enhance everyday life. Through the unique collaboration of its in-house team, iDevices is able to create products that are intelligent at their core. For more information, visit www.iDevicesinc.com.