You're probably hearing the term "smart home" more often these days, but let's be honest; there's a ton on your mind right now, and keeping track of every home design and technology trend can be exhausting.

So, what is the state of the smart home, and how does it impact your business? We break down current smart home trends so you can stay on the cutting-edge and optimize your home technology offering for the greatest return on investment.
Growth spurts

Satisfy the smart home craving

A study conducted by Houzz and CEDIA found those that renovated their home to include smart products reported a

higher level of satisfaction

compared to those who didn't include them in renovations.
51% of U.S. broadband households prefer a move-in ready home with the ability to have smart home technology, while 40% prefer smart home technology pre-installed, according to a Parks Associates study. The same study found that the average number of smart home devices in a household jumped from 3 in 2016, to 6 in 2018.
According to a Farnsworth Group study of over 200 high-volume homebuilders and trade professionals (commissioned by iDevices), the homeowner is the strongest influencer in smart home technology decisions. Among builders, 66% of those surveyed include smart home products as part of a standard package. Respondents also noted convenience and energy savings were the two most common benefits expected from smart home products.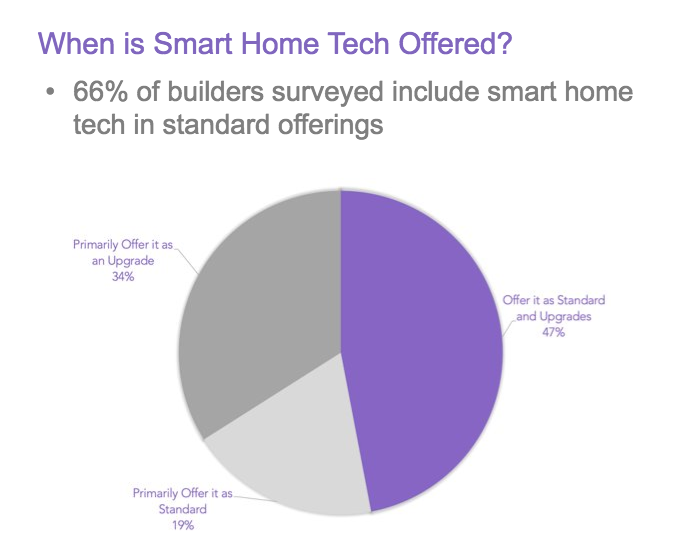 What's in demand?

The Farnsworth Group study also found that smart thermostats are the most popular smart product installed as a standard or upgrade offering. Smart light switches, outlets, and garage door openers were the next most common products included in a builder's standard product offering. A majority of those surveyed only installed security cameras as part of an upgrade offering.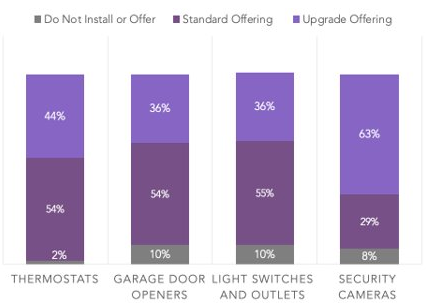 According to insights collected by The Hartford/MIT, the

most popular smart home categories

are smart smoke and carbon monoxide detectors, followed by doorbell cameras, smart locks, smart lighting, smart water shutoffs, home security systems, smart outlets/plugs, smart thermostats, water/mold monitoring, and smart window blinds.
Working together is better

Among U.S. broadband households intending to purchase at least 1 smart home device, Parks Associates says 56% rated the statement "It works with many different types of smart products" as very important (6-7 on a 7-point scale). The same study found 60% of respondents rated "It works with the smart products that I own" as very important; 64% rated "Works with the smart speaker/voice assistant I own" as very important.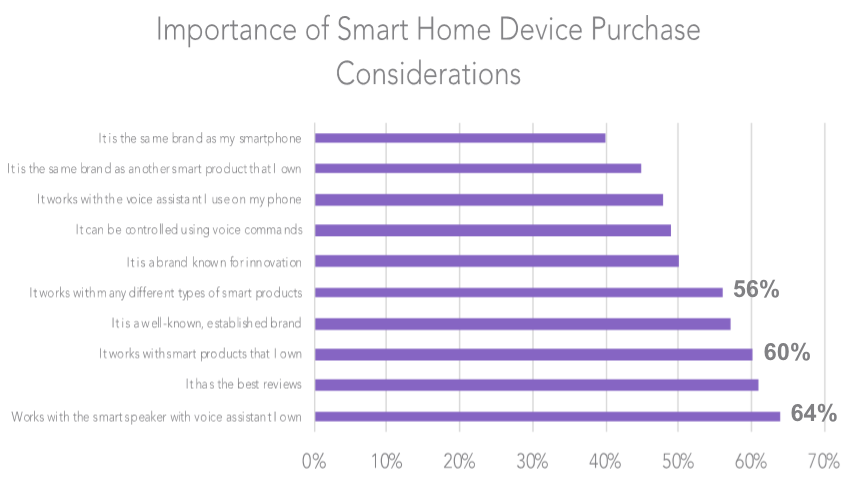 A growing voice in the smart home

In assessing smart home control platform adoption, Parks Associates found voice-centric platforms lead the way; 40% of U.S. broadband households owning a smart home device use Amazon Alexa for smart home control, while 26% use the Google Assistant.
An

NPR & Edison Research report

published in January 2020 found that 24%, or nearly 1-in-4 U.S. adults, own a smart speaker or voice assistant device, and on average, each household includes 2.6 voice-compatible devices. Over half of U.S. adults have used a voice command in their lifetime.
Proven partners
While smart home adoption has increased steadily in recent years, we're still in the early days. Huge leaps are projected in just a few years as awareness and availability increase. You can take a leap as well.
We work with top homebuilders across North America, and have a proven track record of success. With our in-demand product line of hub-free, reliable smart lighting, power, and HVAC solutions, you don't have to juggle multiple sources to start your smart home program. Our home technology solutions work across the most popular smart home platforms - Amazon Alexa, Google Home, Apple HomeKit, and IFTTT. And our single-SKU solution makes smart home simple, which is just what it should be for you, and your customers.