5 Tips For Fall Grilling and Barbecue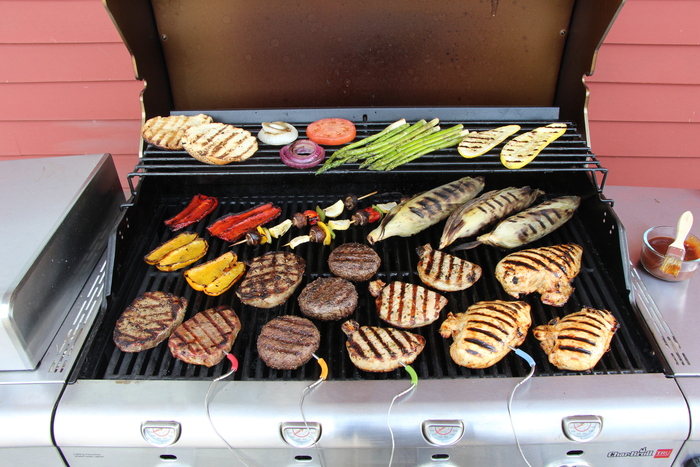 Autumn is here! It's that time of year so many of us look forward to, especially here in New England. The long 90°F days are over, and we welcome 60°F days with crisp nights. Leaves start to change color and pumpkin spiced everything hits the store shelves. Not to mention football season is in full swing, which means tailgating and great food! Obviously, it's a great time of year to up your grill game, and we've got a few tips to help you out:
1.) Get Your Five A Day!
This is a unique time of year. The summer vegetables are still in season and haven't fully yielded to the fall fruits and vegetables. Take advantage! Come up with some unique pairings and you might surprise yourself with the results. Mixing grilled cucumbers, tomatoes, corn, peppers, and onions with strawberries and watermelon can create a spry fall salad. Add in extra-virgin olive oil and season with salt and pepper to create your dressing.
2.) Don't Limit Yourself
Why stick with the old grilling standards: steak, chicken, ribs and burgers? Try something different, like duck or smoked ham. Duck can be tricky because it's naturally lean; so make sure you use the iGrill2 to ensure it's cooked perfectly. Take a duck breast and ​season it with oil, salt, pepper and rosemary. Add lemon or orange slices on top, and grill it over a low, smoky heat to really let the juices soak in. Try using flavored wood chips to get a tasty unique flavor. ​
3.) Spice It Up
If you can't possibly deviate from your traditional steak or chicken meal, then try flavoring it with some chile powder or coffee beans. You can create a simple chipotle southwest steak by seasoning it with chile powder, salt, pepper and garlic. Grinding some coffee beans with brown sugar can give the meat a nice glaze. Try our iGrill BBQ sauce by Smokin' Hoggz to get competition style meat. It's a little sweet, a little smoky and has surprising kick at the end!
4.) Break Open The Liquor Cabinet
Create your own signature barbecue sauce by using beer, wine, whiskey, rum or tequila. You can add a tremendous amount of flavor by including these on your list of ingredients. Whiskey and bourbon add a great woody and smoky flavor. Try tequila with a chicken marinade to liven up the dish.
5.) Take A Trip Around The World
Why not take an international trip in your backyard? There's no reason why you can't enjoy cuisine from the country you have always dreamed of visiting. Try grilling chicken or steak and adding an Asian teriyaki sauce with a side of rice. Or create a South American dish with roasted peppers, onions, guacamole and lime juice. You can even create "jerk-style" salmon and put it on a salad to get a Caribbean infused meal.

Keep track of what you've enjoyed, and it might become a meal your family enjoys year-round. Most importantly don't be afraid to take chances and experiment!