5 Tips for the Best Tailgate of the Season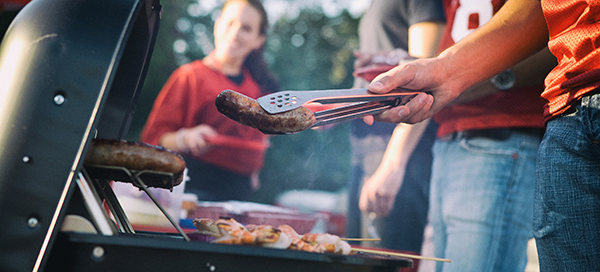 When I think of fall, I think football, friends, pumpkin spice everything and my favorite of them all, tailgating. Who doesn't love an excuse to hang out with friends eating delicious food before watching some football? Sometimes getting ready for the tailgate can be a little stressful so, to make sure none of you forget the essentials this weekend, I created some tips for how to throw the best tailgate of the season! Now, all you have to worry about is who will win the game and if your picks for Fantasy Football will keep you in the lead. Let the games begin!
1. Divide and Conquer
Don't put the pressure of preparing all the food and buying all the beverages onto one person's shoulders. Assign friends different categories of items to bring, such as main courses, side dishes, toppings, beer, water and dessert. Don't forget to have one person bring utensils such as plates, forks and napkins!
2. Prep the Night Before
Any good host knows that the more work you do the night before, the more you can relax and have fun at the party. Skewer and marinate your meat for at least 12 hours for big flavors and make your burger patties ahead of time for a fuss-free game day. Be sure to pack your cooler like a pro with drinks and frozen water on the bottom and label what side of the cooler is packing which foods and beverages.
3. Plan Your Set-Up
Be sure to get there early to ensure you find a good parking spot. When you do, help others easily find you by raising your distinctive team flag above your camp. Folding chairs are a must and if you're worried about the sun, be sure to bring a tent. Most importantly, don't forget the music and games. A good tailgate is all in the details, so set up a DIY toppings bar with chopped onions, sliced tomatoes and cheese, so that guests can play chef too.
4. Don't Forget Your iGrill

Don't worry about undercooking or overcooking your meat on the back of your truck or in a parking lot. With your trusty iGrill by your side, all you have to do is select from your preset temperatures in the iDevices Connected app. You can go ahead and join in on the tailgating fun while the steak and burgers cook; your mobile phone will alert you once the meat is ready to serve-up!
5. Make Clean Up a Breeze
Be sure to pack plenty of trash bags so your tailgate fans can easily toss their garbage when it's time to go into the game. Use boxes and containers to stash empties for recycling later and bring a big plastic tub with a locking lid to throw non-disposable dishes and cooking utensils into after the party.
I love every minute of fall and the football season and I hope this quick tip list helps you throw the best tailgate ever! Be sure to share your pictures with us on Instagram and Facebook with the hashtag #iDevices.
Happy Grilling!