Competition Style Ribs From Smokin' Hoggz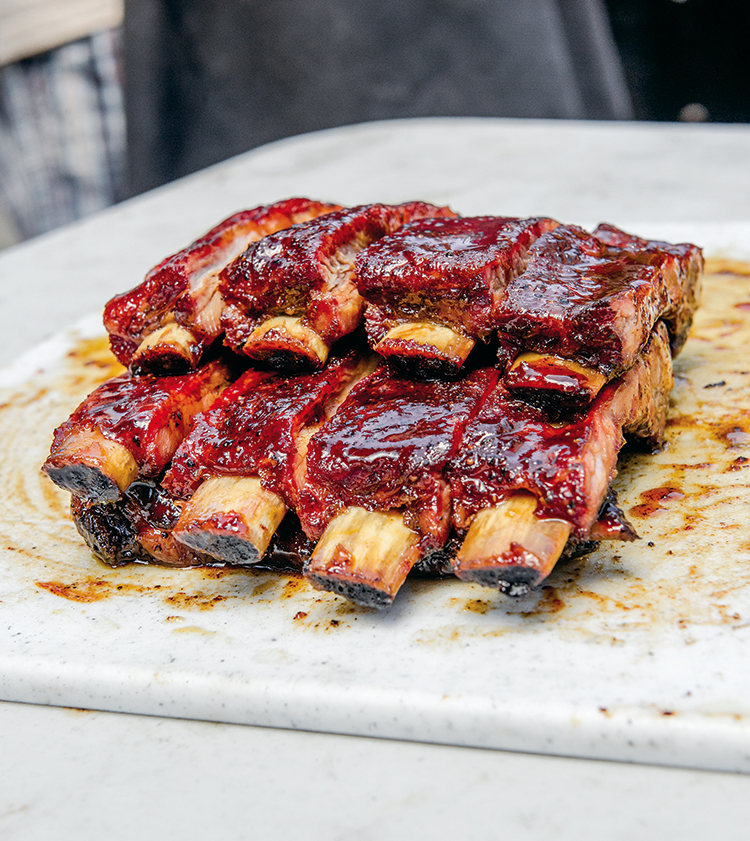 Ribs are what led me into this obsession with competition barbecue. I started using St. Louis style spareribs in competition because they are meatier and have a little bit more fat content than the baby back ribs more commonly found in restaurants. When cooked right, spareribs are juicy, tender and oh so flavorful. Here is my recipe that has helped us to win the New England BBQ Society Ribs title of "Team of the Year" three years in a row!
Yield: 4 racks
Cook time: 4–4½ hours
Ingredients:
4 racks of St. Louis cut spareribs
Smokin' Hoggz Dry Rub
16 ounces (455 g) honey, divided
2 cups (400 g) brown sugar, divided
8 tablespoons (115 g) butter, divided
2 cups (480 g) BBQ Sauce, divided
Heavy duty (HD) aluminum foil
Directions:
1.Set up your Weber Smokey Mountain (WSM) for low and slow cooking (250°F–275°F [121°C–135°C]) and use about 4 good-sized chunks of apple and maple wood. Add the wood just prior to putting on the ribs.
2.Use your iGrill to make sure that your WSM stays at the correct temperature. Set a range alarm in your iDevices Conencted app with the minimum temperature at 250°F and 275°F.
3.Lay the ribs out with the meat side facing down, apply dry rub to the back-side of ribs and let it set for 10 minutes. Flip over and apply dry rub to the meat side. After the rub has set for 15 minutes, apply another coating. Let them sit for another 30 minutes.
4.Put two racks of ribs on the bottom grate and two on the top grate. After 90 minutes, switch the ribs from top to bottom and vice versa. Continue cooking for another 90 minutes.
5.Lay out four sheets of HD foil. On each sheet, apply 2 ounces (60 grams) of honey, a ¼ cup (50 grams) brown sugar and 2 tablespoons (30 grams) of butter. Place one rack of ribs on each foil sheet, meat side down and apply 2 ounces (60 grams) of honey, a ¼ cup (50 grams) of brown sugar and a ½ cup (120 grams) of BBQ sauce and wrap tightly.
6.Return to the WSM and cook for 1 more hour or until done. The ribs will be done when the meat has shrunk from the bone about ¼ to ½ inch [5 to 12 millimeters] and the bones pop through the back-side.
7.When the ribs are done, remove from the WSM and open foil to let them vent for 10 minutes, this will stop them from cooking any further.
8.Take ½ cup (120 milliliters) of juices from foil and ½ cup (120 grams) of BBQ sauce and use this to glaze the ribs.
9.Cut ribs and serve.