Get To Know Smokin' Hoggz BBQ Team!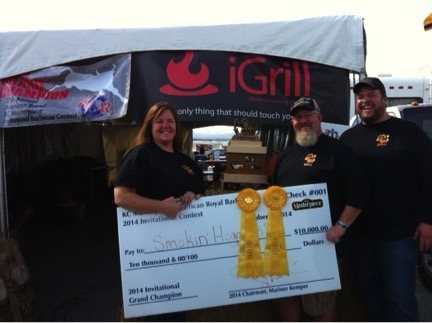 You may have seen us talking about the Smokin' Hoggz BBQ Team on our social media pages over the last 3 years. We are proud to sponsor this award-winning team holding titles including the Jack Daniels 2011 Grand Champions and the 2014 American Royal Invitational Grand Champions. Recently, we launched the iGrill BBQ Sauce, by Smokin' Hoggz giving all of our customers a way to use the top-secret recipe at home! If you haven't tried the sauce, trust us, you're missing out! Get yours today on our website.
I decided to sit down will Bill Gillespie, Pitmaster of the Smokin' Hoggz BBQ team to ask him a few questions and get to know his team a little better. Now, I'm passing along the tips and tricks I learned from Bill, to you guys!
Sierra: Who else is on the Smokin' Hoggz team?
Bill: The Smokin' Hoggz BBQ Team consists of myself, my wife Shaune and my friends Alan Burke and Greg Burke. And our team mascot of course, Shakes!
Sierra: What is each person's forte on the team? Do you each have something that you're in charge of?
Bill: I am head cook so I come up with all the cooking timelines and the flavor profiles. Shaune helps us stay on our game, keeping us organized and focused. Alan is my right hand man when doing prep and cooking. He also helps with the final touches on presentation for the judges. Greg handles all of the logistics and helps with set up and break down. Greg and Shaune both help with running turn in boxes for judging. As far as special talents go, Shaune cooks up killer desserts on the smoker and Alan is great at keeping everyone hydrated.
Sierra: How do all the personalities mix together?
Bill: We are pretty laid back and get along really well. Each of our personalities and strengths bring out the best in each other. Our team is very happy working together; and thank god! We are together every weekend!
Sierra: What's the culture like with the other teams? Is everyone friends for the most part? You must see a lot of each other!
Bill: We do see a lot of the same teams at these competitions, so it's like an extended family. I have made some incredible friendships over the years. Everyone gets along which makes the time at these events very enjoyable and we really look forward to going to them.
Sierra: What's the BBQ event that your most look forward to every year?
Bill: Our favorite event of the year is the Roc City Ribfest in Rochester, NY. It's a very team friendly event. The organizers really take care of all the teams making us feel at home.
Sierra: What's the craziest or funniest thing that's ever happened with the Smokin' Hoggz team at one of your competitions?
Bill: Well back in 2011, we were competing in the Roc City Ribfest in Rochester NY, we were at the awards ceremony and the MC was going through all the categories. They were on the last category (Beef Brisket). Well, they called us for fist place (this was our first 1st place call in BBQ)!! All three of us jumped up with excitement and my teammate and I go to high five each other, we totally missed and his thumb went up under my glasses and poked me in the eye. I immediately put my hand up to cover my eye, as it hurt and I could not open it. So, we are up on stage accepting the trophy and everyone in the audience thinks I am crying because I keep wiping my eye. No one had seen what had happened to me moments before I got on stage. After that, the GM starts calling the overall awards. They call us for overall Grand Champion (this was our very first GC)! We all go up on stage and I am holding a cold beer over my eye!! I guess it's safe to say I will never forget our first GC!!!
Sierra: What are the living arrangements over competition weekends? I hear you guys have a pretty sweet RV...Is this an upgrade over the last couple of years?
Bill: Yes, we have a 30' Toyhauler/camper. The front of the unit is a typical camper, so that is where the main bedroom, the kitchen, etc. is. The rear of the unit has a 10' garage with a ramp door and it has a bed that comes down from the ceiling. This is our third season using this. It's definitely an upgrade. Before we bought the camper, we worked out of a 12' enclosed utitlity trailer and slept on cots under an EZ-UP.
Sierra: Do you have any tips or tricks to share with our readers (of course, nothing top-secret!)?
Bill: If you're looking, you ain't cooking. Don't keep lifting the cover to your grill/smoker. That more you do that, the longer it'll take to cook the food!!