Happy Easter!
---
Be sure to join in on the Egg Hunt fun by not getting stuck in the kitchen this Easter! Make hosting Easter dinner a little easier this year with this citrus-inspired ham that is sure to impress all of your dinner guests. I'm going to surprise you with how simple this recipe is to master while still resulting in an incredible flavor.
We hope that you have a great Easter Sunday with your family and friends. Happy Eating!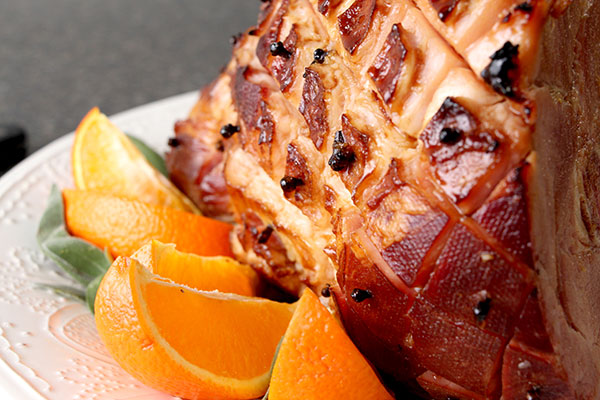 INGREDIENTS
Ham:
1 Fully Cooked Bone-In Ham
2 cups Apple Cider
1 Cinnamon Stick
1 tsp. Whole Cloves
1/2 tsp. Allspice
Citrus Glaze:
Juice of 2 Oranges
1/2 cup Brown Sugar
1 tbsp. Dijon Mustard
1 tbsp. White Balsamic
INSTRUCTIONS:
Place ham in a large stockpot.
In a bowl, combine apple cider, cinnamon, cloves and allspice. Stir.
Add the mixture to your stockpot. Stir.
Bring liquid and spices to a boil.
Reduce heat to low and cover.
Simmer for 2-3 hours.
Preheat oven to 325 degrees Fahrenheit.
Combine juice from 2 oranges, brown sugar, dijon mustard and white balsamic in a small saucepan. Heat over low heat, stirring, until sugar is melted.
Place ham in a large roasting pan and insert meat probe from your iGrill or Kitchen Thermometer device into the thickest part of the ham.
Brush citrus glaze over the top of the ham.
Cook ham in the oven for 30 minutes (or until your iGrill or Kitchen Thermometer reads 160 degrees Fahrenheit) and brush with citrus glaze every 10 minutes.
Garnish with fresh orange and sage.
Enjoy!