Happy Independence Day!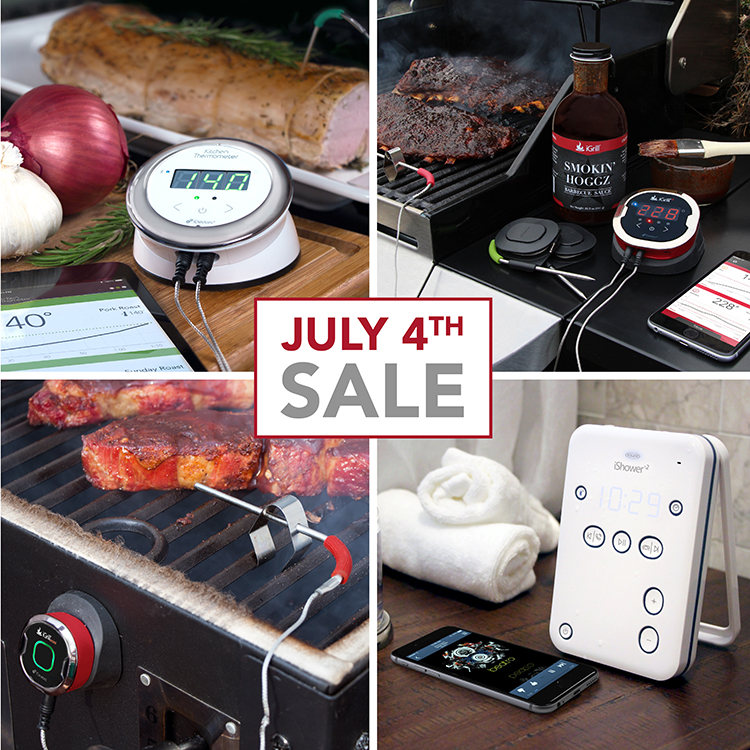 July 4th means barbecuing, fireworks and fun with family and friends! As we kick off this great weekend, everyone at iDevices is looking forward to celebrating with our favorite BBQ splurges. Here are some tips from Food and Drink to ensure that your meal is flavorful and delicious at your party this weekend:
• Don't dry out or overcook your meat! Reverse sear your meat so you're guaranteed a moist, perfectly cooked meal. And of course, don't forget to use your iGrill or Kitchen Thermometer so that you can keep a close eye on the current temp without having to leave the party!
• Use a BBQ rub (we suggest the Smokin' Hoggz All Purpose Rub) for great flavor on your chicken, beef or steak. Marinade your meat in a plastic bag or container a few hours before you cook it, so that it's flavorful and moist! PS – There is such a thing as over-marinating your meat so don't leave it too long!
• Don't stress your hamburgers out! Avoid pressing down on the burger while it cooks and don't add a ton of spices, flavors or other ingredients. Too many spices can ruin the flavor of your meat; simplicity is key here! If you want to have a fun twist on your burgers, add some cheese, avocado, Sriracha mayo or bacon (my personal favorite)!
To celebrate the 4th, we are having a sitewide 15% off sale all weekend! Use code SUMMER at checkout and receive this discount off of your entire purchase. This limited time offer expires 11:59 pm EST 7.5.2015. Make sure to share all of your grilling pictures with us on social media. We love to see what our fans are making!
Like us on Facebook
Follow us on Twitter
Follow us on Instagram
Happy Fourth of July!