Happy Memorial Day Weekend!
---
Planning a huge BBQ bash this upcoming weekend? With Memorial Day coming up and the month long celebration of National BBQ month coming to an end, what better way to celebrate than heating up the smoker to make some delicious food?? If you've got your iGrill or Kitchen Thermometer handy, you'll be able to kick back and relax with friends and family while the meat cooks up.
If you don't have a menu already planned for this weekend, we have you covered. Try out this award-winning ribs recipe from the Smokin' Hoggz BBQ team.
Baby Back Ribs
By: Bill Gillespie, Pitmaster
Smokin' Hoggz BBQ Team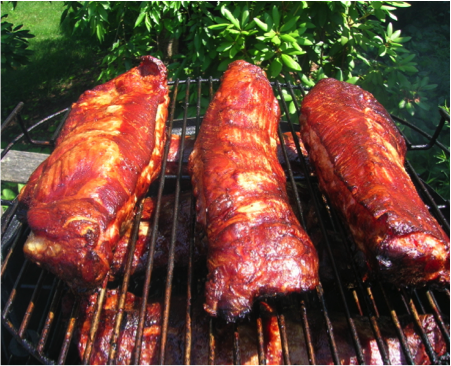 Ingredients / Tools:
• 2 Racks of loin back ribs (baby back) with the membrane from the backside of the ribs removed
• Yellow mustard
• Dry rub – recipe to follow
• iGrill BBQ Sauce, by Smokin' Hoggz
• Honey
• Brown sugar
• Apple wood chips or chunks (if using chips, soak in water for about an hour)
• Heavy duty aluminum foil
• iGrill or Kitchen Thermometer
Dry Rub*:
• ½ cup sugar
• ½ cup Kosher salt
• ¼ cup brown sugar, dried
• 2 tablespoon chili powder
• 1 tablespoon ground cumin
• 2 teaspoon cayenne pepper
• 2 teaspoon black pepper, freshly ground
• 2 teaspoon granulated garlic
• 2 teaspoon onion powder
* Mix all dry rub ingredients together and store in a dry container. Set up your cooker.
If you don't have a smoker or a charcoal grill, a gas grill will work just fine. When cooking on a gas grill you will only need to light the back burner because you will be cooking with indirect heat on the front burner. To get that smoke flavor take aluminum foil and make a 6"x6" pouch, fill with the soaked wood chips and poke holes on one side to let the smoke out. Lift up the cooking grate and place the pouch directly on the burner.
Set a range alarm in your iDevicesTM Connected app with the minimum temperature at 230ºF and the maximum at 250ºF.
Apply some of the yellow mustard to both sides of theribs, just enough to lightly coat them and give the dry rub something to stick to. Then, sprinkle the meat with the dry rub and let it sit for about 1-2 hours before cooking to allow the meat to come to room temperature. A good, overall dusting on both sides of the ribs is all you'll need.
Now it's time to put the ribs on the cooker, meat side up. Let them cook for about 2.5 hours. After 2.5 hours, take a few sheets of aluminum foil and drizzle with honey and brown sugar. Place the ribs on the honey and brown sugar, with the meat side down. On the back-side of the ribs, pour the iGrill BBQ Sauce, by Smokin' Hoggz, wrap tightly and place back on the cooker for another hour or until done.
You'll know they're done when the meat shrinks from the bone about ½ - ¾ inch. Take the ribs out of the foil and glaze them with the left over juices. Let them rest for about 20 min. Cut them up and serve.
This Memorial Day, we are offering a deal you can't miss! Buy one iGrill mini and get a bottle of iGrill BBQ Sauce, by Smokin' Hoggz for $1 using code SMOKIN! We hope you enjoy your long weekend!
Happy Memorial Day!
Sierra