Heat Things Up In The Kitchen This Valentine's Day
---
It's that time of year again, a time of chocolates, flower deliveries and... last minute dinner arrangements. Don't worry, everyone stresses about the same thing in the lead up to Valentine's Day; where to go for dinner. Your favorite restaurant books up weeks in advance and restaurants are always squeezing in too many people on the busiest day of the year. You end up feeling like you're on a double date with the couple next to you!
This year, I have the perfect idea for your Valentine's Day dinner. Try cooking something new together at home! Not only is this a romantic idea that is sure to surprised your loved one, but studies also show it may actually strengthen your relationship. Cooking can be a great way to spice things up, both in your kitchen and in your love life!
As Lizzy W., from LizzyW.com, says Valentine's Day is about "showing people how much you love them and care for them." We all know that food is the way to your heart, so why not create a culinary masterpiece while also creating a romantic night with your sweetie!"
Here are some fun recipes for you and your loved one to try together this weekend:
Lobster Fettuccine from LizzyW.com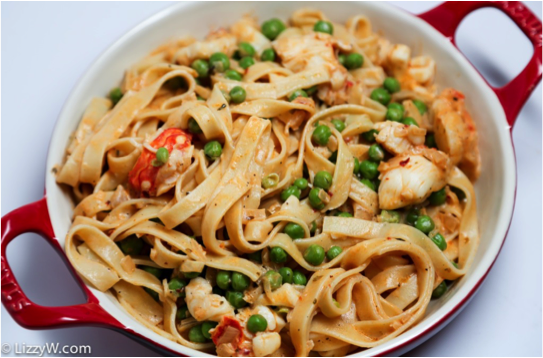 "I love Valentine's Day! Not because it's a day when my significant other is supposed to buy me flowers and chocolates, I love it because it's a day devoted to spending time and showing people how much you love and care for them, which happens to be the thing that makes me most happy. Somehow though, stress is inevitable especially when it comes to planning the meal! This lobster fettuccine is such an easy, amazing and romantic dish, it will solve all your dinner worries! Cooking lobster though can be a little tricky, but thanks to the iGrill thermometer, it can be cooked to perfection and this will be the easiest Valentine's dinner ever!" - Lizzy W.
Ingredients:
(8oz.) half a package of Pappardelle's Roasted Garlic Fettuccine (YUM)
1 shallot, diced
1 tbsp. butter
1 tbsp. olive oil
3 cloves garlic, minced
.5 lb. lobster
1/4 cup low fat cream cheese (2 oz.) - this is a healthy alternative to half and half
1 tbsp. tomato paste
1/4 cup dry white wine
1/4 cup chicken stock
2 tbsp. grated parmesan cheese
1/4 Italian Seasoning
1/2 cup peas
Salt and pepper, to taste
1/8 tsp. red pepper flakes
1 iGrill or iDevices Kitchen Thermometer
Directions:
First, bring a large pot of water to a boil, add salt and cook pasta according to package instructions.
In another pot, bring water to a boil and cook lobster tail for about 4-5 minutes, until pink. Place the iGrill thermometer or Kitchen Thermometer in the lobster after about 3 minutes to measure temp. - once it is done the temp. shouldn't be any more than 135 degrees. You can also set the iDevices Connected app to the proper temperature for lobster and your smart device will alert you when it's ready! Once the tail is done, crack the shell, pull out the meat, and cut it into 1 inch pieces.
In a saucepan, heat olive oil and butter and add shallots, garlic, salt, pepper and red pepper flakes. Saute until the shallots turn translucent and begin to brown, then add the tomato paste and stir for a minute. Then deglaze with white wine. After the alcohol cooks off, about 3 minutes, add in the stock, cream cheese, parmesan, peas, lobster and Italian seasoning. Simmer until the sauce comes together, about 5 minutes. Adjust seasoning as needed here.
Finally add back in the pasta, stir well and serve!
Enjoy!
Country Braised Chicken from Panna Cooking
Equipment:
Vegetable peeler
Chef's knife
Strainer
Saucepan
Braising pan w/ lid
Cutting board
Ladle
Ingredients:
3 tsps. Olive oil
1 onion
1 stalk celery, medium dice
2 tsps. tomato paste
1/2 cup white wine
1 sprig rosemary
3 whole parsley sprigs, plus more for garnish
salt and pepper
4 whole chicken legs (bone-in skin-on)
2 carrots, peeled and medium dice
1 clove garlic, peeled and gently smashed
1/2 cup cognac
1 bay leaf
1 sprig thyme
1 qt. chicken broth
Directions:
Preheat oven to 350 degrees F. Put the olive oil in a large, heavy-bottomed braising pan and place over medium high heat. Generously season both sides of chicken legs with salt and pepper. When the pan is hot and the oil is slightly smoking, add chicken legs and brown, about 5 minutes per side.
While chicken is browning, prepare onion, carrots and celery as indicated above.
Remove the browned chicken from the pan and set aside. Add vegetables to the pan, reduce to medium heat and sweat for 5 minutes, being careful not to brown. Season lightly with salt and pepper. Peel garlic. Add garlic and tomato paste, stir in to incorporate. Deglaze pan with cognac in two additions. Allow the alcohol to burn off and reduce the liquid until almost dry. Add white wine to pan and let liquid reduce. Add whole parsley sprigs, rosemary, thyme, bay leaf and chicken to the pan. Pour in chicken broth and bring to a simmer. Note: You may not need all of the chicken broth. Just add enough to cover the chicken halfway, but not fully submerge. Cover pan and place in the preheated oven for 35-40 min.
Remove from oven and place chicken legs on a rimmed serving platter. Strain cooking liquid into a small saucepan, reserving vegetables. Over medium heat, reduce liquid at a simmer until it is a thick consistency that thinly coats, or naps, a spoon. Taste for seasoning. Pour sauce generously over chicken thighs and vegetables. Garnish with torn parsley leaves and serve.