iDevices Announces Precision Grilling Products at CES -- iGrill2 & iLP Propane Bluetooth Monitors for iPhone, iPad, & iPod Touch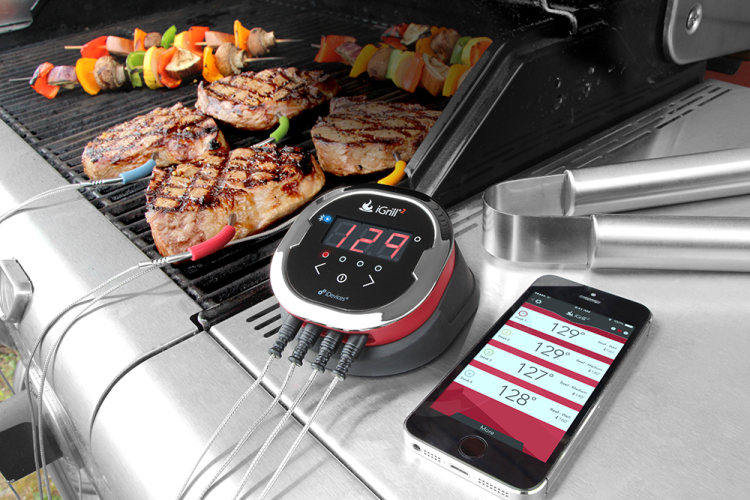 Avon, CT, December, 2013 – iDevices®, LLC, www.idevicesinc.com, the premier app-enablement company and creator of the original iGrill®, announced today the release of their newest connected grilling product: the iGrill2 Bluetooth® Smart Meat Thermometer. Made for the pitmaster, this app-connected thermometer will take your grilling experience to the next level of excellence.
The iGrill2 allows you to monitor the temperature of your food using the free iDevices Connected App from up to 150 feet away. The device features a vibrant LED display with proximity wake-up, magnetic mounting, four probe ports and a 150-hour battery life. With a more rugged design than the original iGrill, iGrill2 is sure to be a must-have for any grilling fan.
Bluetooth Smart Technology Provides Simplified User Experience
iGrill2 uses Bluetooth Smart technology, which provides a flawless user experience by simplifying the pairing process. The iGrill2 works with the brand new iDevices Connected App for iPad (Generation 3 and up), iPhone (4S and up) and iPod touch (5 and up) and most Bluetooth Smart Android devices. The interface is user-friendly and totally responsive, with a device manager, personalized dashboard and fully customizable settings.
iGrill2 Key Features:
Magnetic Mounting: Magnetic backing allows for convenient mounting on your grill or smoker, or use the optional magnetic disc for mounting on non-magnetic surfaces.
Seamless Connectivity: Bluetooth Smart technology omits the need for manual pairing and provides a more stable connection.
Bluetooth Capability: 150-foot Bluetooth range so you never get stuck at the grill.
Monitor Multiple Probes: Easily track up to four different temperatures.
Excellent Battery Life: 150 hours of battery life on just 2 AA batteries.
Illuminated Display: Check the temperature quickly and easily with the proximity sensor LED display.
Visit iDevices at CES 2014:
iDevices will be showcasing iGrill2, iLP and several other exciting new products at CES 2014. Visit the iDevices booth in the Upper South Hall, Booth # 35866. An iDevices Connected press power session is open to the press on an invite-only basis, Monday, January 6th at 11:30 AM at the Mandalay Bay Conference Center. Please contact Lianne Kersey, Marketing Manager, at LianneKersey@iDevicesinc.com for details.

Pricing & Availability:
Priced at $99.99, the iGrill2 will be available through iDevices at www.iDevicesinc.com in 2014. The iLP pricing will be released in 2014.
About iDevices, LLC:
iDevices began its journey with the conception and development of the iGrill®, one of the first appenabled devices, following with the launch of the popular iShower® water resistant Bluetooth speaker. Following these successful launches, iDevices emerged as a premier development and consulting company for the app-enabled market. iDevices has integrated all required resources in-house to create and launch app-enabled products, both independently and with partner companies. For more information, see www.idevicesinc.com.
Note: This release was revised on 3/18/15 to reflect changes in product development.