iDevices Connects with Android Users

---
Centralized Dashboard Conveniently Keeps
All iDevices Products In One Place for Easy Access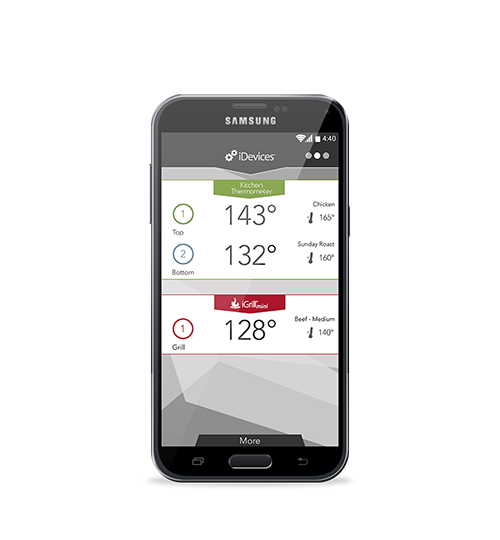 Avon, Connecticut, August 5, 2014 –– iDevices®, LLC idevicesinc.com, a premier consumer product development and consulting company in the Bluetooth® and Wi-Fi™ connected markets, announced today the much anticipated Android release of the iDevices Connected app. The iDevices cooking and grilling products: iGrill2, iGrill mini, Kitchen Thermometer, and Kitchen Thermometer mini are now available for most Bluetooth Smart Ready Android devices running 4.3 or later. Android users are now able to utilize a centralized dashboard for all of their iDevices Connected products without the need of multiple apps on their smartphones.
iDevices Gives Android Users a Carefree Way to Cook without Being Tethered to Stove or BBQ
"Android users have been very vocal about their wishes to become a part of the iDevices Connected Community and we are very excited to be able to invite them to the iDevices way of life. Now, Android users can utilize the main features of the iDevices Connected app, providing them with a carefree lifestyle while also saving them time," said Chris Allen, CEO, iDevices LLC.
Android users will now be able to enjoy the features the iDevices Connected app has to offer, including:
Connect to multiple iDevices products simultaneously.
Set custom alarms and timers.
Share to social media.
Get inspiration for dinner with exclusive recipes and more.
The free iDevices Connected app is available in the Google Play Store, which works seamlessly with many Bluetooth Smart Ready Android 4.3+ devices (see http://idevicesinc.com/compatibility/ for list of devices). iDevices®, LLC has a full line of products, which include the iGrill® mini, iGrill®2, Kitchen Thermometer and Kitchen Thermometer mini available from retailers, such as Apple, Best Buy, Lowes and Amazon. Additionally, iDevices will be launching several new products over the next 9 months that will also work with the iDevices Connected app. All iDevices products also work with iOS devices, including iPhone 4S and above, iPad mini, iPad 3 and above and iPod touch 5. For more information, see idevicesinc.com, Facebook: https://www.facebook.com/iDevicesLLC, Twitter: https://twitter.com/iDevices.
About iDevices, LLC
iDevices began its journey with the conception and development of the iGrill®, the first app-enabled device, following with the launch of the popular iShower® water-resistant Bluetooth speaker and four more connected thermometers. Throughout these successful launches, iDevices has emerged as a premier development and consulting company for the app-enabled market. iDevices has integrated all required resources in-house to create and launch app-enabled products, both independently and with partner companies. For more information, see idevicesinc.com.