Make Fall Even Sweeter!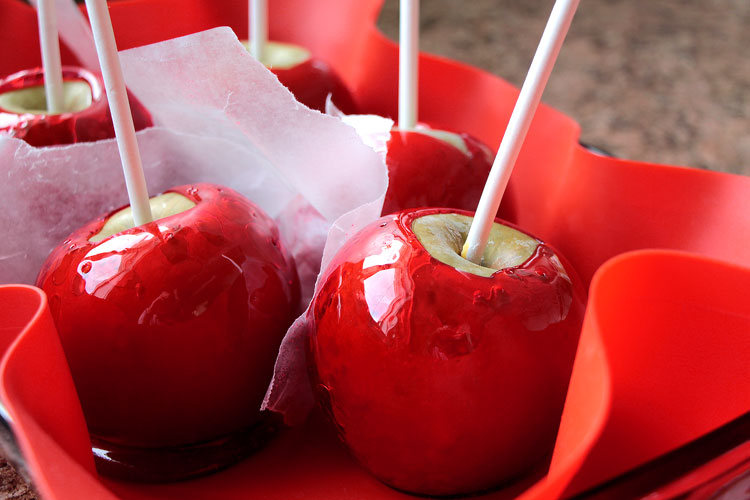 Being from the UK, I've never been to a New England fair. So this past weekend, I took a trip to the Big E in Massachusetts and it was amazing! While walking around the Big E, I saw food that was just unbelievable. Fried Snickers®, giant corn dogs, key lime pie on a stick ...everything you could think of!
This is also where I was introduced to my very first candy apple, and from there I was hooked. As soon as I got home, I searched for recipes to create my own. The US has been keeping this a secret from us Brits! I never would have thought it would be so easy to make such a delicious treat. I learned a few things along the way and I wanted to share them with you to make your experience even easier!

I used my Candy Maker Set, by iDevices® (includes a Kitchen Thermometerminiand a Pro Candy Probe) and the iDevices® Connected app on my iPhone® 6. You can buy your Candy Maker Set online with free US shipping for just $69.95. Use the promotional code FALL15 at checkout and you'll get $15 off!

Ingredients:
3 cups white sugar
1/2 cup light corn syrup (I used Karo® brand)
1 cup water
8-10 medium sized apples
1/2 teaspoon of red food colouring (I used gel food colouring, and just eyeballed it)
Candy apple skewers
iDevices® Kitchen Thermometermini and Pro Candy Probe (Candy Maker Gift Set)
Toppings – if wanted! However, I preferred to keep my candy apples plain this time around.

Step 1 – I put the first three ingredients into a 4-quart pot, clipped the Pro Candy Probe to the side of the pot, and turned the stove top to medium/medium-high heat. Then, I set the preset temperature for 300°F on the iDevices® Connected app. I was careful not to let the probe touch the bottom, to make sure the temperature was accurately reading the candy and not the heated metal pot.

Lesson: I should have used a smaller, narrower pot. I had to tilt the pot while dipping the apples to make sure they were completely covered. It got a little tricky towards the end!

Step 2 – As the candy started to heat up, I prepared the apples so they would be all set to dip once the candy mixture was ready. First, I removed the apple stems and then placed the skewers into the apples.

Lesson: I would have paid more attention to how the apples sat on a flat surface and tried to angle the skewer so it would stand-up straight. Some of the sticks were a bit crooked, and it was harder to get an even coating of candy on the apples.

Step 3 – While the mixture was still cooking, I got out a baking sheet and silicone baking mat. This is where you'll put the apples while they are cooling. I took my silicone baking mat and placed it on top of a baking sheet. If you don't have one, you can use wax paper and cooking spray.

Step 4 –Once the candy mixture hit 300°F, I removed the pot from the heat and stirred in the food colouring.

Lesson: Careful of splashing!

Step 5 – One by one, I dipped each apple into the candy. I slowly twirled the apples to ensure an even coating of candy. This also allowed some of the excess candy to drip back into the pot.

Step 6 – Once you've coated the apple, place it on the prepared baking sheet and repeat! It's as simple as that. If you're feeling fancy and want to add toppings, now would be the time. When you've dipped the last apple, place the baking sheet in the fridge so they can cool.

Enjoy your candy apples and be sure to share your pictures on our social media pages!
Order the Candy Maker today! Don't forget, you'll get $15 off and free US shipping with the code FALL15. Get yours here!