The importance of accessible lighting can't be overstated. No matter your age or physical health, lighting that's difficult to control or access can lead to injuries, whether it be by tripping over furniture or stumbling down stairs. Accessibility is becoming even more important in the modern-day home as the Baby Boomer generation ages. According to U.S. Census data, one in three adults age 65 or older have trouble using a feature in their home. The number of people 65 and older in the U.S. is expected to jump from about 40 million in 2010, to 55 million in 2020 and some 70 million in 2030.
At home, falling is the third leading cause of unintentional-injury-related death over all age groups, according to the National Safety Council. There are several steps you can take to prevent falls — creating a safer home environment with accessible lighting is among them.
A light switch you can place anywhere
That's where Instant Switch comes in. Along with iDevices line of smart switches and outlets, Instant Switch ensures lighting is accessible throughout your home. Instant Switch is a companion switch that pairs to products like iDevices' Wall Switch, Dimmer Switch, and Wall Outlet via Bluetooth. These products alone provide app control from anywhere and the ability to integrate with the most popular voice assistants — two great options for those looking for accessible lighting control at home.
Instant Switch is a rocker-style switch that installs on nearly any surface for manual control. It's battery-powered and sticks on the wall or other surfaces with a Command Strip from 3M, so wiring isn't necessary. If you have an iDevices Wall Switch installed at one end of a hallway, you could pair an Instant Switch to that Wall Switch and place Instant Switch at the other end of the hallway to control the same light. This, in essence, creates a 3-way circuit without wiring. Up to two Instant Switches can be paired to a Wall Switch or Dimmer Switch — similar to a 4-way circuit. An Instant Switch can be paired to each receptacle of Wall Outlet, so you can create easily accessible access points for lamps and other plug-in lighting accessories.
Here are a few examples of how Instant Switch can make lighting more accessible in your home:
Switch to bedside lighting control
We've all experienced the perilous, unlit trek to the bathroom or kitchen in the middle of the night. It's either hard to find the switch or phone to turn the lights on. Well, what if you just stuck the switch right next to your bed? With Instant Switch, it's possible. Just sit up and flip Instant Switch before you even put your feet on the ground so you know where you're walking. When connected to a Dimmer Switch, Instant Switch can also dim lights, so you can turn your bedside light on at a lower level to avoid waking up your partner.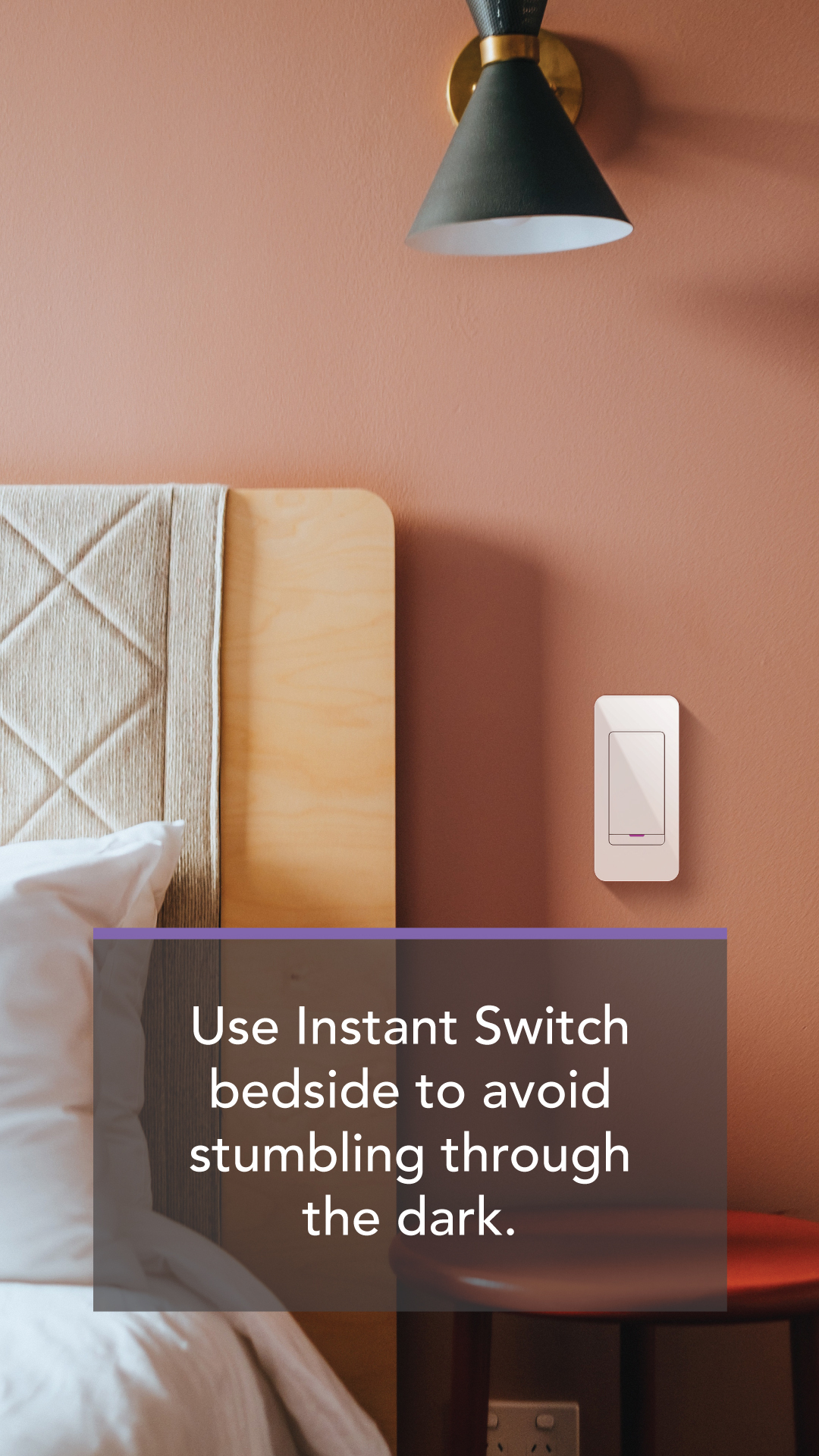 Hard-to-reach no more

Instead of risking a fall by leaning awkwardly to turn on a lamp behind a couch or piece of furniture, control it with Instant Switch from a more convenient location. It's not only easier, it's a lot safer.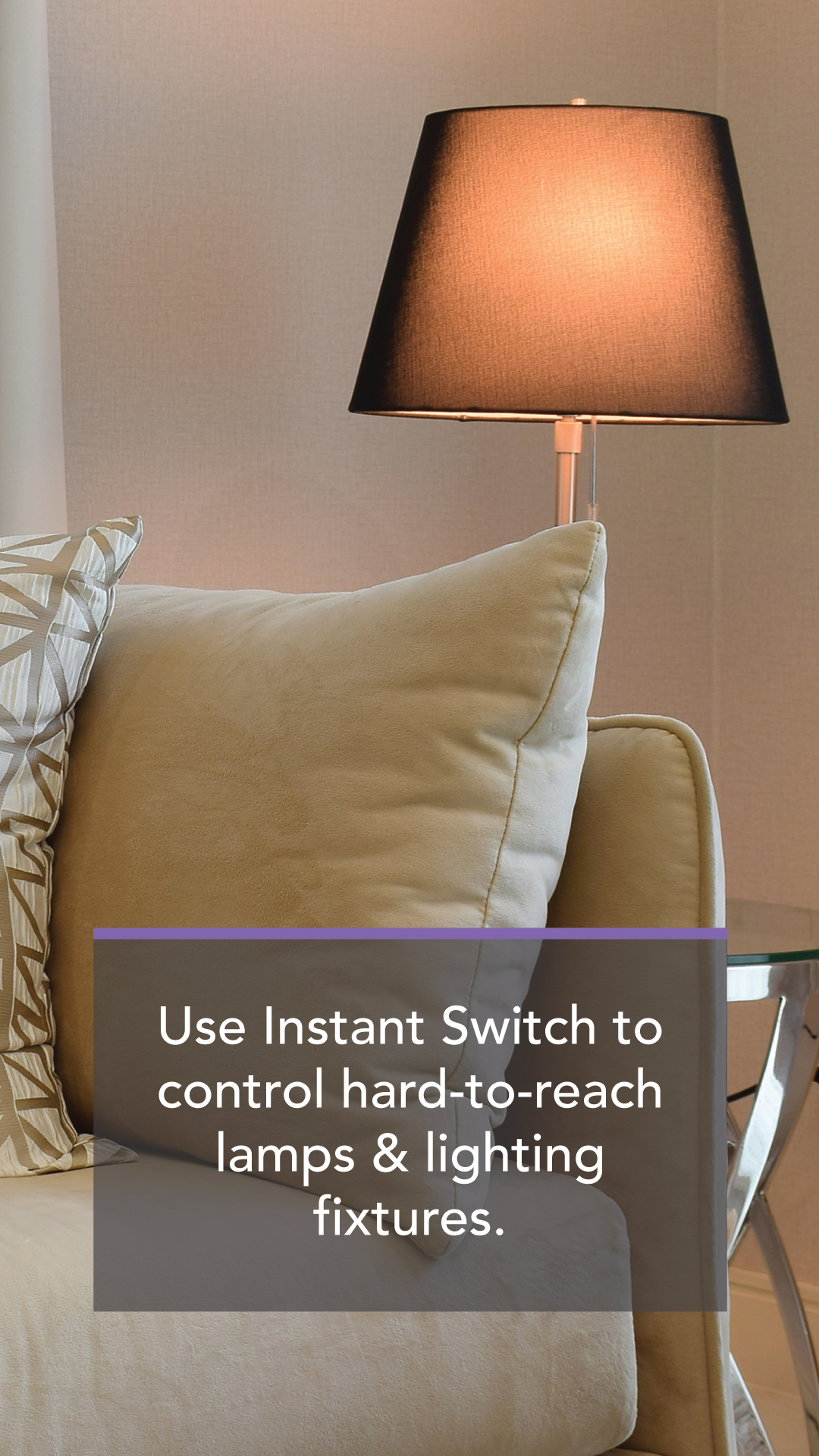 Accessible to all
Instant Switch can be placed anywhere on the wall without additional wiring. To ensure kids or other individuals can turn on the lights and safely navigate the hallways of your home, place Instant Switch lower on the wall. As the kids grow, you can always adjust Instant Switch higher on the wall.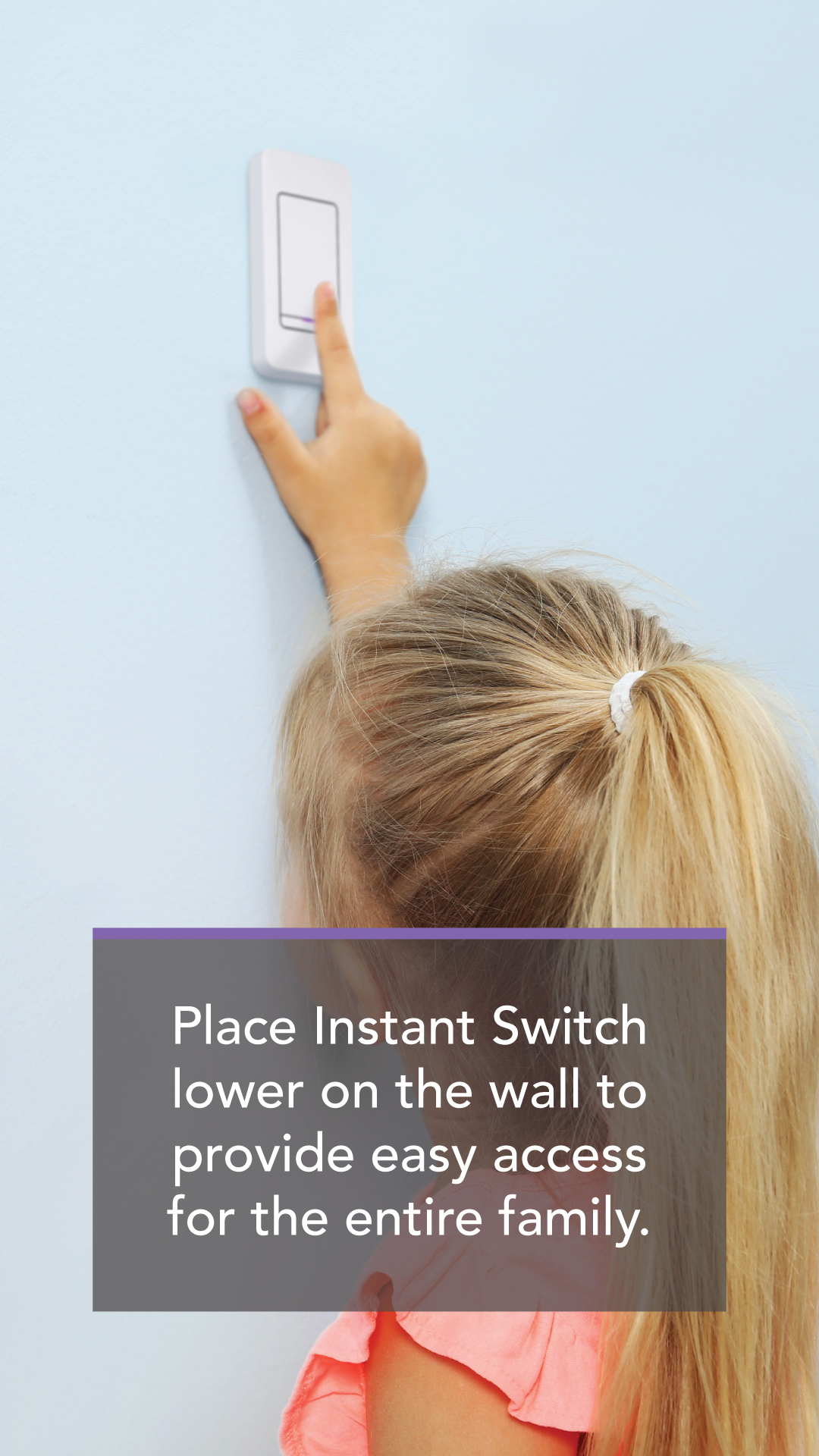 Stairway to safety
If your home has stairs, it's important they're lit properly to avoid falls. If there's only one switch to control stairway lighting, that's a big problem. Use Instant Switch to add another control point at either end stairs, so no matter what, you can turn on the lights before taking on the stairs.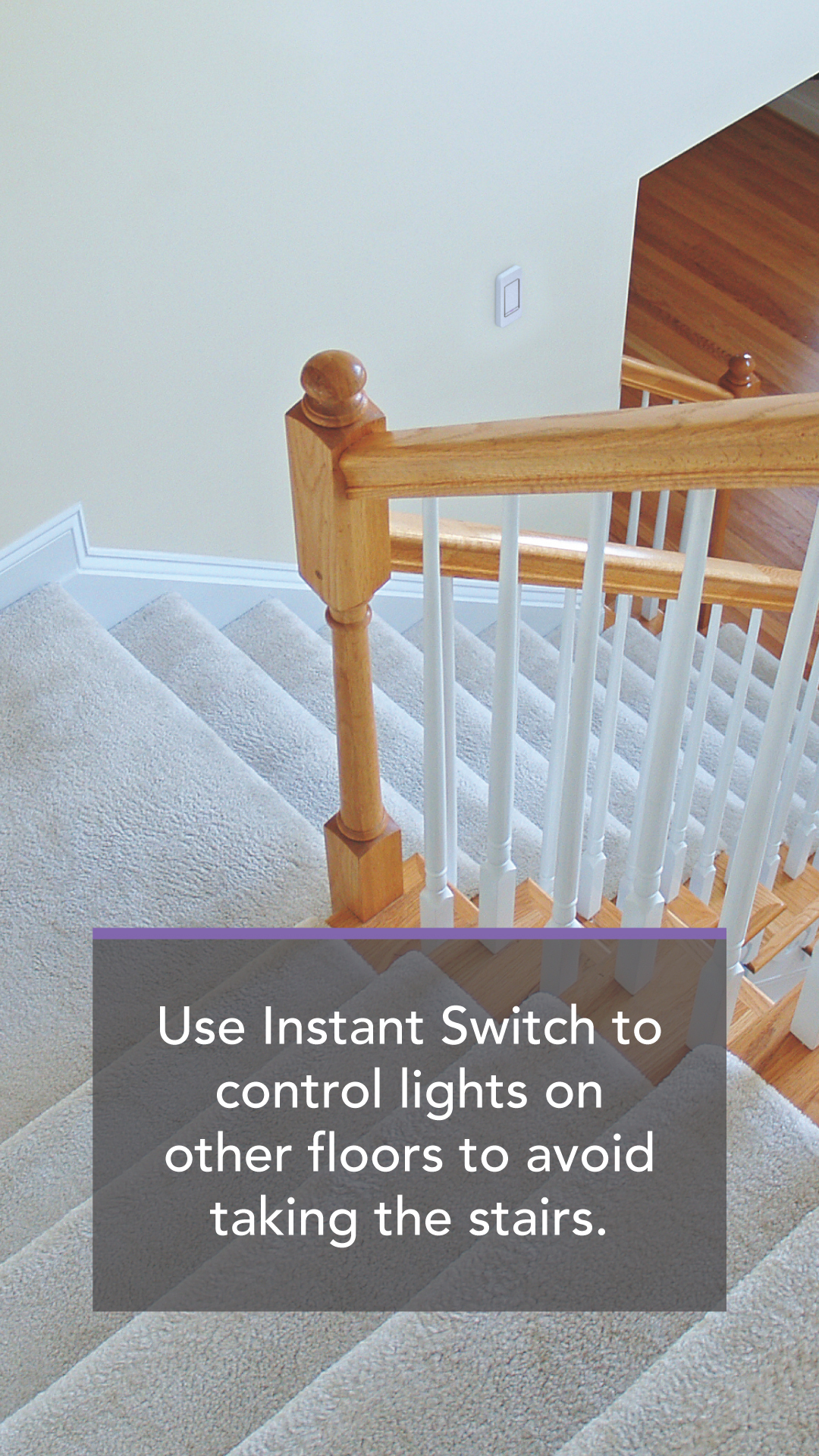 Outdoors from indoors
Outdoor lighting is great, especially if it illuminates a pathway to point out potential tripping hazards. But if the only way to control that outdoor light is by going outdoors, there may be issues from time-to-time. What if the weather is bad, or there's something blocking your path? What if you have an injury, and can't quite make it outside? Instant Switch pairs with Outdoor Switch, a Wi-Fi enabled outdoor smart plug, so you can switch outdoor lighting and accessories on and off inside your home.