We treat our pets like family, and for good reason. These little (or huge) bundles of cuteness bring so much joy into our lives. During the hottest, most blistering days of summer, there's always a news story about how to keep your pets from overheating outside.
But what about inside your home, while you're away at work all day? Our pets don't enjoy being hot. In fact, it's downright dangerous, as some animals react far differently to heat than humans. Health and age are also a huge factor. With the iDevices Thermostat and our IFTTT service, it's never been easier to ensure your pets comfortable. So without further ado, two IFTTT Applets from iDevices that'll keep your pets cool and safe this summer.
1. Turn on when thermostat's temperature rises above
Description: Turn on a specified product when your thermostat's ambient temperature rises above a set temperature.
Problem: You want to avoid running your AC on full blast while at work during the, ahem, dog days of summer. And cold air has a knack for escaping your house. With the sun beating on your windows, it can easily warm up, and fast. This is especially dangerous for flat faced, elderly, overweight or sick pets.
Solution: With this Applet, you can input an ambient temperature reading for your iDevices Thermostat. If that ambient temperature is exceeded, you can trigger another iDevices product to turn on. So why is this helpful for your sweet little pup or kitty? You can plug a fan into an iDevices Wall Outlet, or hook up a ceiling fan to an iDevices Wall Switch, and create an Applet that'll turn the fan on If the ambient temperature, say 76 degrees, is exceeded. This will ensure there's circulation in your house, and bring down the ambient temperature so your pets are comfortable.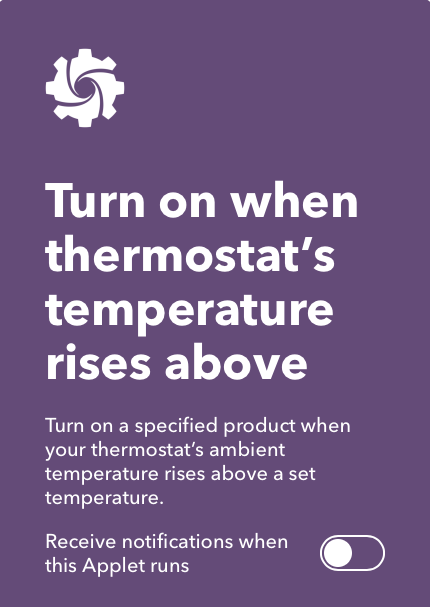 2. Notify me when thermostat's temperature is above a value
Description: Receive an SMS message when your thermostat's ambient temperature is above a value.
Problem: You're swamped at work and forget it's supposed to warm up, so you didn't switch on the fan or AC. Your poor fur baby is home alone, sweating and shedding it out. This is a potentially dangerous situation!
Solution: With this Applet, just input an ambient temperature reading for your iDevices Thermostat. If the ambient temperature in your home rises above that set level, you'll automatically get a text notification from IFTTT giving you a heads up. That way, you can spring into action, head home and cool off the house. Or, if your boss isn't a pet person and won't let you leave, just open up the iDevices Connected app and turn on your iDevices Thermostat to bring down the temperature!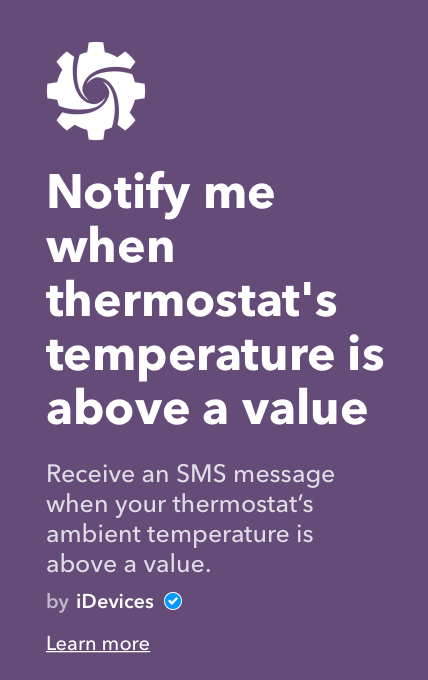 For more information about our IFTTT service, visit our in-depth blog post on how to get started >> https://idevicesinc.com/news/idevices-ifttt-smart-home-simplicity
To learn how to heat and cool your home efficiently >> https://idevicesinc.com/news/how-the-idevices-thermostat-can-help-you-go-green
Need help getting started? Contact our customer experience team >> https://support.idevicesinc.com/hc/en-us