Avon, Conn. – August 16, 2017 – iDevices®, the preeminent brand in the connected home industry, announced today the availability of the iDevices Dimmer Switch, the brand's first major product release since it was acquired by Hubbell Incorporated earlier this year. The iDevices Dimmer Switch demonstrates the company's continued advancement towards high quality, in-wall connected controls that not only enhance the homes of DIY enthusiasts, but also enrich the offerings of builders and professional installers alike. It represents a significant competitive advantage as the only hub-less smart switch that's compatible with Siri®, Alexa and the Google Assistant, all in one easy-to-use product.
Home builders and professional installers can now fulfill the needs of customers looking to build or upgrade their smart homes, no matter what platform or device they use. The iDevices Dimmer Switch joins the iDevices Wall Switch, Wall Outlet, and Thermostat to round out iDevices' core offerings for both new construction and retrofit applications.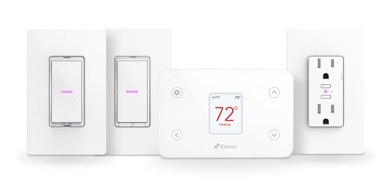 "The iDevices Dimmer Switch enhances our extensive line of premium smart home solutions and brings us closer to our goal of creating products that seamlessly integrate into the walls of any home," says Chris Allen, iDevices President. "With Hubbell's long history in the electrical industry, and our expertise in the IoT marketplace, we have the combined strength to continue our evolution towards flexible, 'invisible' products that fit any home, new or old. The iDevices Dimmer Switch is one of many innovations to come, forever changing the smart home as we know it."
The iDevices Dimmer Switch boasts unique features such as:
• Customizable Dimming Capabilities: With intelligent features such as in-app dim range settings to prevent low-level bulb flicker and last-state brightness memory, users can truly personalize their lighting and smart home experience.
• Works with All the Leading Voice Control Platforms: The iDevices Dimmer Switch is the only hub-less smart dimmer that works with Siri®, Alexa and the Google Assistant.
• Fits into the Walls of Any Home: With a sleek, minimalist design that fits any standard rocker faceplate, the iDevices Dimmer Switch seamlessly integrates into any home's existing lighting system.
• Enhanced Functionality and Simple Installation: The iDevices Dimmer Switch is installed just like a traditional wall switch, and can be installed in single pole, 3- and 4-way setups with no extra wiring needed.
• Customizable LED Night Light: One of iDevices' signature design features, the built-in LED night light is both functional and attractive, allowing users to locate the iDevices Dimmer Switch in the dark with a wide range of color choices.
The Dimmer Switch is available now for $99.95. Learn more at store.idevicesinc.com/idevices-dimmer-switch/
The Dimmer Switch is compatible with iOS devices with iOS 8.1+ and Android™ 4.3+ devices with Bluetooth® technology.
About iDevices, LLC:
iDevices®, the preeminent brand in the smart home industry, is making IoT accessible to everyone with their premium line of Wi-Fi® and Bluetooth®-enabled products. With a comprehensive set of both plug-and-play and in-wall solutions, iDevices manufactures connected power, lighting, and climate control solutions for homeowners, professional installers, and builders alike. Their world-class team of in-house engineers and software developers maintain a forward-looking approach to in-field upgrades and platform integration; ensuring their products always remain at the forefront of home automation. iDevices seamlessly connects people to their worlds with sophisticated technology that enhances everyday life. iDevices is a proud member of the Hubbell family. For more information, visit iDevicesinc.com.
###
About Hubbell Incorporated:
Hubbell Incorporated is an international manufacturer of quality electrical and electronic products for a broad range of non-residential and residential construction, industrial and utility applications. With 2016 revenues of $3.5 billion, Hubbell Incorporated operates manufacturing facilities in the United States and around the world. The corporate headquarters is located in Shelton, Conn.
###
iDevices Media Contact:
Meghan Petchel
meghanpetchel@maxborgesagency.com
305-374-4404 x 162