iDevices To Launch One of the First HomeKit Compatible Products This Year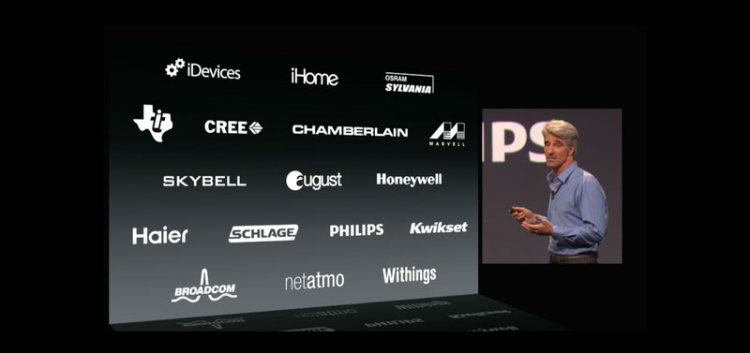 This morning our team, made up of some of the most passionate IoT engineers, app developers, UX designers, industrial designers and hardware/software specialists in the world, was glued to their computer screens as Apple unveiled the iPhone 6, Apple Watch and further details on iOS 8 at their yearly event.
The event held even more anticipation and excitement than usual, as one key feature of iOS 8 will have a huge impact on iDevices and our products: HomeKit. This iOS 8 framework will streamline the connection of smart appliances and accessories and will add the ability to control products through Siri® voice controls as well as group devices to create 'scenes'. At WWDC in June, Apple announced HomeKit and showcased iDevices as one of the trusted companies selected to be an Apple HomeKit product developer, alongside Philips, Broadcom, Chamberlain and Schlage (see image above).
It's been clear over the last year, that the home automation market is fragmented and lacking any clear direction. It's currently saturated with closed systems that require hubs and force users to stick with one brand for their entire house, instead of being able to choose products that best fit their needs from many providers. By focusing on the user and building the functionality into the OS, Apple has taken the lead on delivering order to chaos with HomeKit, eliminating the need for cumbersome set-up processes, hubs and dozens of apps for a single home automation system.
Following Apple's initiative to take hold of the home automation market with HomeKit, iDevices has been designing, developing and perfecting a connected home product to hit the market in Q4 2014 as one of the (if not the) world's first HomeKit compatible products. In addition, iDevices will be releasing an update to our iDevices Connected app, making it HomeKit compatible. The iDevices Connected app is an ideal extension of Apple's simplified user experience for the home as it was originally designed to seamlessly support multiple products in a unified experience.
"We are confident that this product, which will be unveiled to the public in late October, or early November, will play a pivotal part in changing the home automation market as we see it today. There will be no need for a complex system, or even a separate hub. The new iDevices product is the only thing you'll need to transform your home into a 'smart home'", said iDevices CEO, Chris Allen.
Contact MBA@iDevicesinc.com to receive press announcements on this HomeKit compatible product.
If you're interested in learning more about partnering with iDevices, please contact info@iDevicesinc.com.