Transforming your house into an iDevices smart home just got even easier with IFTTT Connections.
Connections are similar to Applets on IFTTT, but much more powerful.
For those new to the world of smart home, IFTTT is a free app connecting hundreds of different apps, web services, and products that might not organically work together. Each company that's partnerd with IFTTT is called a service. iDevices has a service page that includes several premade Applets, but you can also create your own utilizing our service as an ingredient.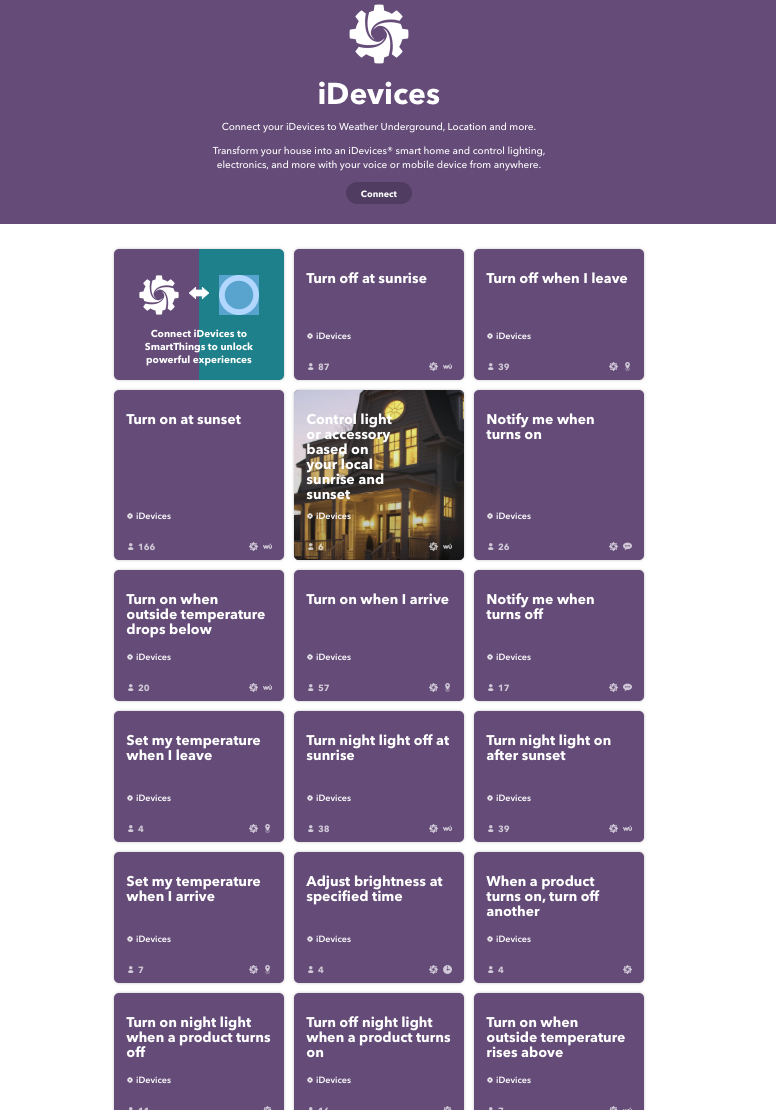 Read our blog post from last year for more details about how iDevices works with IFTTT.
With Connections, we're bringing two services together (iDevices and another) so you can enjoy multiple features with a single integration.
How do Connections differ from Applets?
An Applet is 1:1 – one service has a trigger that maps to an action from another service. For example, iDevices has an existing Applet that maps to Weather Underground (another service): If the sun sets, an iDevices product that you specifiy turns on. We have another Applet that does the opposite: If the sun rises, an iDevices producet that you specify turns off.
That's two individual Applets that need to be configured directly on IFTTT.
Instead of configuring two Applets, wouldn't it be easier if you could click one "Connect" button and turn both features on, plus potentially many more?
Meet our first Connection
Well, that's exactly what we've done in working with IFTTT to develop our first Connection.
On the theme of sunrise and sunset (two of our most popular Applets), our Connection allows you to pair iDevices and Weather Underground once to enable a convenient sunrise and sunset schedule. (Note: this automation isn't compatible with the iDevices Thermostat).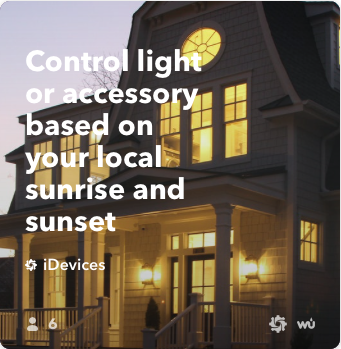 Simply put, instead of creating two Applets, you can just make one Connection. You can still use our Applets, and create your own. In fact, we suggest it. You can only make a Connection with one iDevices product at this point, so we suggest picking a product that takes full advantage of sunrise/sunset scheduling, such as an exterior light near the entryway (never come home to a dark house), or the living room (it'll always look like someone is home, even when they're not). You can manage and update your Connection at any time, and still create Applets to automate the other products in your home!
What's great about Connections is they're easy to use, and can continually grow. We have the ability to make a Connection more powerful by adding additional "features" related to the iDevices and Weather Underground services. Just because you make a Connection doesn't mean you have to use every feature. You can pick and choose which features you'd like to use.
To get started with this Connection, you don't have to log into IFTTT.com and navigate to the iDevices service page. Just push the "Get Connected" button in this email, enter your email address in the email field, and you'll be guided through a quick set up process.
Send us your feedback and let us know what new Connections and features you'd like to see in the future!