Whether you're installing hub-free smart home technologies like ours, or work with a hub-based program, homeowners have an appetite for easy, accessible voice control.
Nearly 1-in-4 U.S. adults own a smart speaker or voice assistant device, and on average, each of these households has 2.6 voice-compatible devices, according to a recent NPR & Edison Research report. Since the COVID-19 pandemic began, people are using their voice assistants more frequently as they transition to working from home. These stats make one thing crystal clear — there's value in voice.
Tailoring your voice control options for the best homebuyer experience while keeping costs down will give you a leg up on the competition. That's where Instinct™, our combination smart light switch and Amazon Alexa smart speaker, comes in.
If you're first thought is: "I've heard iDevices is Wi-Fi-based and hub-free, but we offer a hub-based system they don't integrate with, so we're not going to bother," then we have news.
Any Alexa-compatible product works together, no matter the brand or connectivity protocol (Wi-Fi, Z-Wave, ZigBee, etc.). So while Instinct is a Wi-Fi device, it's also an Alexa built-in device that can integrate into any hub-based system and serve as the voice hub in the kitchen or other common living spaces.
Now we're talking
The number of smart home devices supported by voice assistants like Amazon Alexa and the Google Assistant have increased exponentially — 30,000 in 2018, compared to 90,000 in 2019.
"Amazon Alexa is the platform that is supported by the highest number of devices, with recent estimates reaching as high as 60,000 supported devices," notes this Statista report.
Based on hard data and what we've seen in the field, Amazon Alexa is the go-to voice assistant for most homebuilder programs — hub-based or not.
Instinct for voice
Instinct has Alexa built-in, which differs from being compatible or working with Alexa.
Alexa-compatible devices like our smart Wall Switch, Dimmer Switch, Wall Outlet and Thermostat can be adjusted and managed with voice commands to any Alexa device, like an Echo Dot.
Instinct is an Alexa device — think of it as an Echo Dot that fits nicely into the wall. So, a homeowner can use voice commands to Instinct to control any Alexa-compatible product they have installed in their house — iDevices brand or otherwise.
Instinct's Alexa functionality goes beyond turning the lights on and off. It's a fully functional Alexa device that allows homeowners to stream music, ask questions, set reminders and alarms, get news and weather, and utilize any number of Alexa Skills.
Bring it all together
Homeowners are relying less on app control; utilizing voice, schedules and automations for a more connected experience. Instinct won't appear in a hub-based system's all-in-one app, but there's really no need. It's a voice device first, just like an Echo Dot.
And if app control is highly desired by a homeowner, Instinct can be managed within the Amazon Alexa app alongside any other Alexa-compatible products in the home. Instinct can be incorporated into Routines, which automate how Alexa-compatible products/smart home devices work together.
Homeowners can create a morning Routine that starts at a scheduled time, or by saying a custom phrase like "Good Morning" to Alexa. The Routine could then turn on any hub-based lights and adjust the hub-based thermostat in the home, while also triggering Instinct to play the latest news and weather.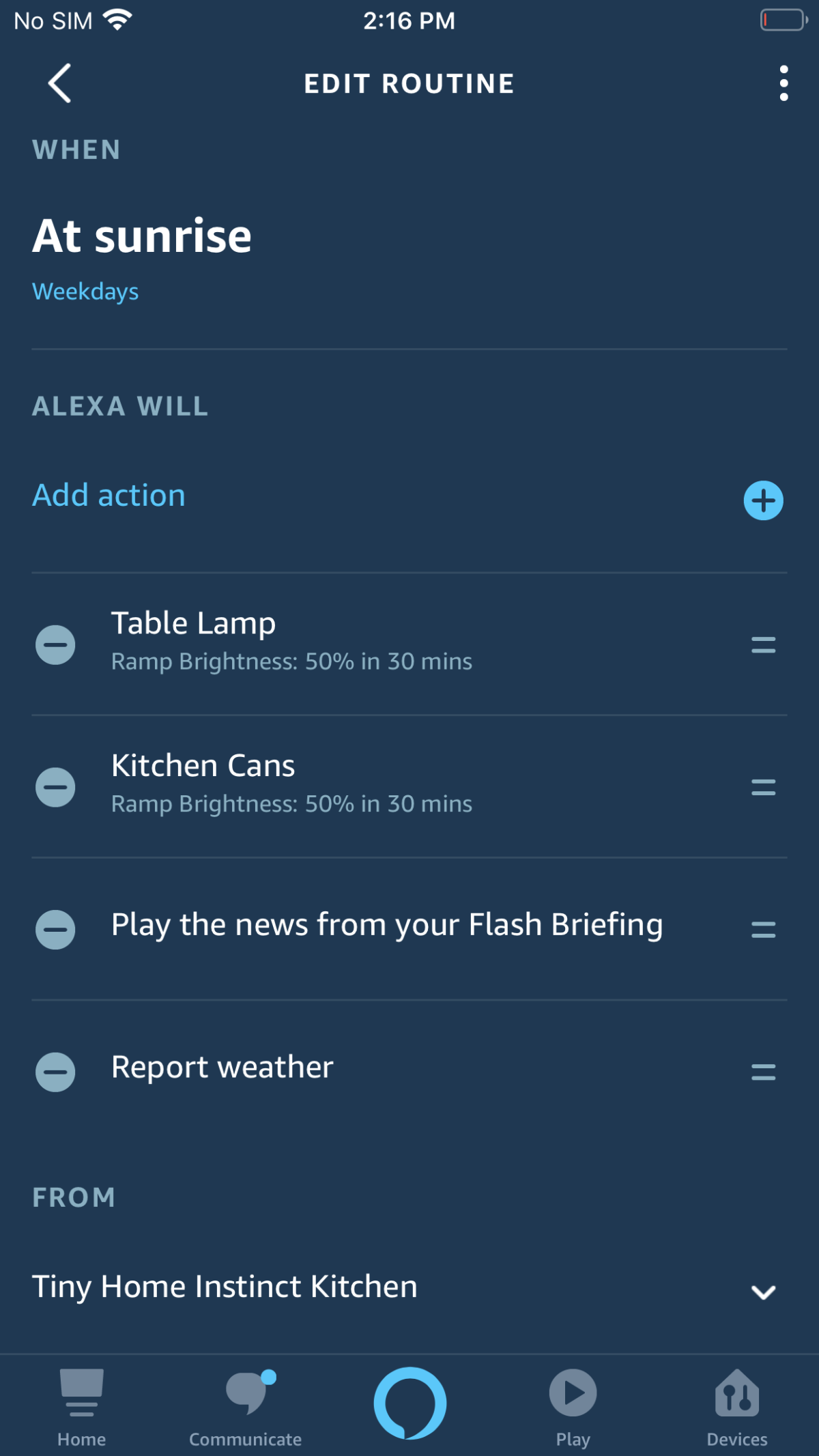 While our products don't natively work with these hub-based products, the Alexa built-in functionality of Instinct brings them together. With the Alexa app, homeowners can create similar schedules or voice-activated cues to automate their entire week (e.g. heading out, arriving home, going to bed, entertaining, movie night, etc.).
2-in-1 smart switch
One of the biggest advantages of Instinct is the space it saves. It makes sense in the kitchen, bathroom, or even bedrooms, because there are no cords, and it's stylish, giving any space a cutting-edge look and feel.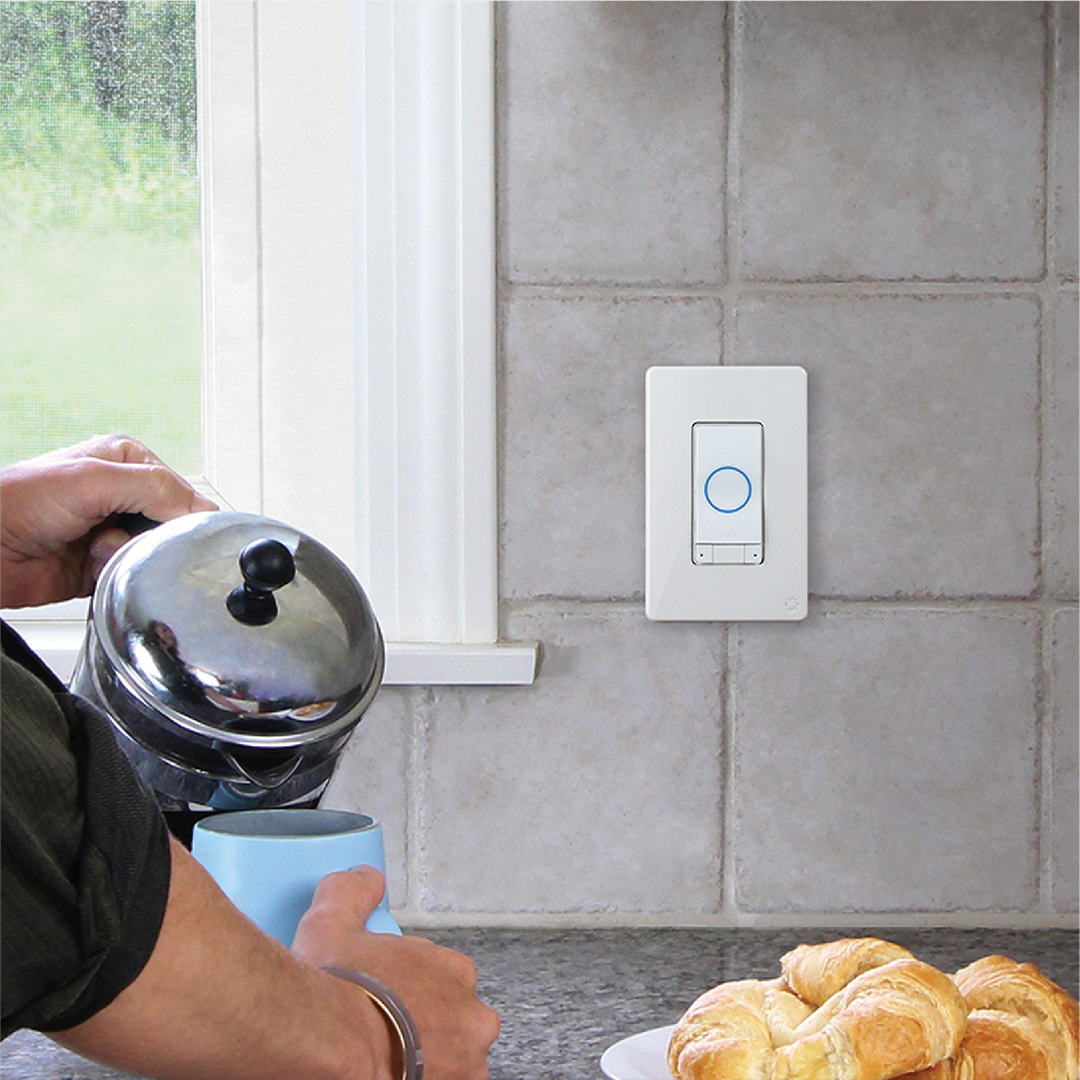 Since Instinct is a 2-in-1 product (smart light switch and voice assistant), there are cost-savings to be had. Take what you're paying for a Z-Wave or non-connected light switch, plus the cost of the voice assistant device you're offering, and you'll find Instinct not only looks better and saves space, but all at a cost that's equal to, or potentially less than you're paying now.