There's rarely a time we run our homes on a single setting. How we want our homes to act, or react, often depends on where we are, and at what time. In an iDevices smart home, you can program your smart products to react based on your location.
With Location Triggers, one of several HomeKit-based Trigger settings available in the iDevices Connected app, your home is hands off. Instantly adjust your home's lighting, temperature and so much more simply by arriving at, or leaving a location of your choice.
Triggers 101

There are four Trigger settings via the Connected app – Home, Location, Product, and Sensor. Triggers activate Scenes, another HomeKit feature that allows you to control several smart products with a single command.
Scenes can be activated manually through the Connected app, or with voice commands, schedules, and Triggers — far and away the most automated method to control your smart home. An Apple Home Hub — Apple TV 4K, Apple TV 4th Generation, HomePod, or iPad running iOS 10 or later — is required to create and activate Triggers remotely.
Click here for step-by-step instructions on setting up Triggers in the iDevices Connected app.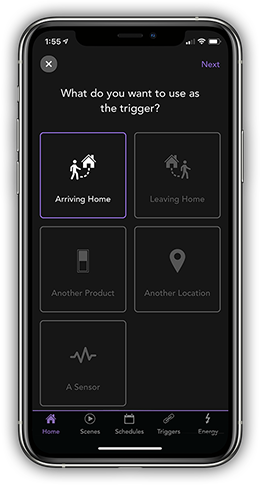 How the magic works
It's been a busy morning; after you left the house, you realize you left several lights on. Luckily, you have a Location Trigger set, so when you get to work, your "At Work" Scene plays and everything adjusts to your preferences. You don't even have to think about it. Magic in action.
You could also set the same Trigger to fire and play a Scene when you leave home, too. But sometimes when you leave home, you're not heading to work (not often enough). So if you're looking to play a Scene based on your destination, triggering it when you arrive at said destination works better.
Don't want a Trigger to fire on certain occassions, like if you need to run into work on Saturday because you forgot your wallet on your desk? You set an active time so your Trigger only fires during the work week between the hours you're normally in the office.
Pro Tip: You don't need to create specific Scenes for any of your Triggers. If you're happy with the Scenes you already have set up in your smart home, you can just select one of those during setup.
As always, if you have any questions, don't hesitate to reach out to our U.S.-based customer experience team: support@idevicesinc.com

Follow us on social for the latest news and helpful tips that can help make your home smart to the core.