With the help of a HomeKit-compatible motion sensor, you can set up automations with the iDevices Connected app that allow you to control your entire house, without thinking twice.
We're talking about Sensor Triggers, one of four HomeKit-based Trigger settings available in the Connected app. Besides the major convenience factor, this type of home automation can add efficiency to your home by turning off lights/appliances and adjusting the temperature to a more efficient setting when you're not around.
Triggers 101

There are four Triggers settings in the Connected app – Home, Location, Product, and Sensor.
Triggers activate Scenes, another HomeKit feature available in the Connected app. Scenes allow you to control multiple smart products with a single command. They can be activated manually through the Connected app, with voice commands, schedules, and Triggers — by far the most automated method to control your smart home.
An Apple Home Hub — Apple TV 4K, Apple TV 4th Generation, HomePod, or iPad running iOS 10 or later — is required to create and activate Triggers.
Click here for step-by-step instructions on setting up Triggers in the iDevices Connected app.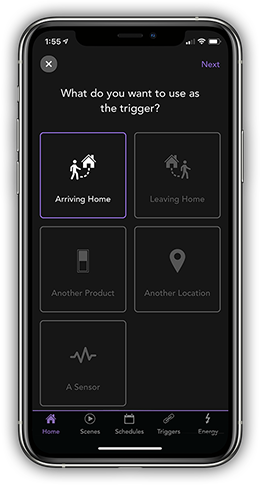 How the magic works

Sensor Triggers are simple in premise, but provide a variety of automation options.
Let's say you have a HomeKit-compatible motion sensor in your mudroom. You can set up a Scene in the iDevices Connected app that turns on lights in the mudroom, hallway, and kitchen. You can then set up a Sensor Trigger that activates that Scene whenever motion is sensed after 5 p.m. in the evening, on weekdays.
Now when you trip the motion sensor after 5 p.m. during the week, your Scene will automatically play and you won't be in the dark when you come home from work. This is just one example of what you can set up, but there are really so many possibilities.
As noted above, you can set your Trigger to only activate during the day, night, or a custom range. You can also set an end time, so the Scene turns off after a period of time.
Another factor to play with is based on presence. You can set your Sensor Trigger to only activate when you're home vs. when you're not home. If you've shared your home with other family members, you can also set your Trigger to activate when anyone is home, or when no one is home.
As always, if you have any questions, don't hesitate to reach out to our U.S.-based customer experience team: support@idevicesinc.com
Follow us on social for the latest news and helpful tips that can help make your home smart to the core.