It's bedtime and the inside of your home is drenched in light. There's nothing worse than making the rounds just to manually turn off every light.
What if you could just turn on your bedside lamp as you slide into bed, and lights throughout your entire home automatically shut off like magic?
Thanks to Product Triggers, this can easily be set up in your house. Product Triggers are one of four HomeKit-based Triggers available through the iDevices Connected app.
Triggers 101
There are four Triggers available via the Connected or Home apps – Home, Location, Product, and Sensor.
Triggers activate Scenes, another HomeKit feature available in the iDevices Connected app. Scenes allow you to control multiple smart products with a single command. Scenes can be activated manually through the Connected app, with voice commands, schedules, and via Triggers — far and away the most automated method to control your smart home.
An Apple Home Hub — Apple TV 4K, Apple TV 4th Generation, HomePod, or iPad running iOS 10 or later — is required to create and activate Triggers.
Click here for step-by-step instructions on setting up Triggers in the iDevices Connected app.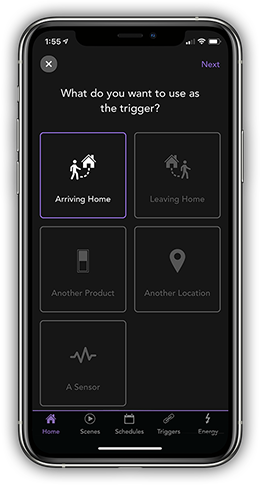 How the magic works
In the bedtime example we provided earlier, your bedside lamp would be connected to an iDevices Wall Outlet or Socket — the best options for any lights you plug in. When you turn the lamp on, the Trigger you set up fires and the custom Scene you created plays, turning off all lights throughout the house.
These Scenes are completely customizable; you could also turn on certain exterior lights for security and adjusts the temperature. Just like that, you're ready for bed and don't need to venture around the house manually switching off every light or adjusting thermostats.
Another useful Product Trigger is based on temperature. If the temperature reaches a certain threshold, the Scene of your choice could play.
You can designate an active time for your Trigger, say after 8 p.m. on weeknights, in case you don't want the Scene you created to play 24/7.
As always, if you have any questions, don't hesitate to reach out to our U.S.-based customer experience team: support@idevicesinc.com
Follow us on social for the latest news and helpful tips that can help make your home smart to the core.