As you pull into the neighborhood at dusk and catch a glimpse of your house just around the gentle curve of the road, you know exactly what's about to happen – something your neighbors can't stop asking about. They've seen the latest in smart home technology in action at your house, and now they want in.
That's because as soon as you pull into the driveaway, your home activates by itself. Entryway lights turn on, as if your home's saying "welcome back, nice to see you again." The temperature adjusts to your evening preference. Living room lights switch to a brightness level that begs you to put your feet up and relax, because that's what you deserve after a long day.
We're talking about Home Triggers, one of four HomeKit-based Trigger settings available in the iDevices Connected app.
Triggers 101
There are four Triggers available via the Connected app: Home, Location, Product, and Sensor.
Triggers activate Scenes, another HomeKit feature available in the iDevices Connected app. Scenes allow you to control multiple smart products with a single command. Scenes can be activated manually through the Connected app, with voice commands, schedules, and via Triggers — far and away the most automated method to control your smart home.
An Apple Home Hub — Apple TV 4K, Apple TV 4th Generation, HomePod, or iPad running iOS 10 or later — is required to create Triggers in the Connected app.
Click here for step-by-step instructions on setting up Triggers in the iDevices Connected app.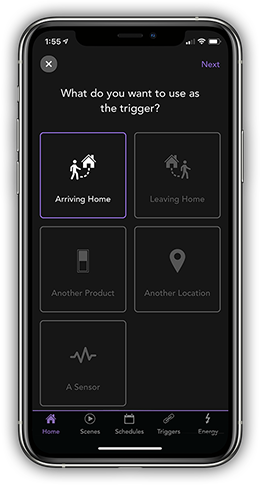 How the magic works
A Home Trigger allows your home to sense your presence and take a desired action when you arrive home or head out. As soon as your Apple Home Hub notices your presence, or lack thereof, the Scene of your choice activates.
You can set a Trigger that activates your "Going to work" Scene when you leave home, for example. This Scene could turn off all the lights in case you miss any on your way out, and turn down the air conditioning or heat so you aren't wasting energy.
Your "Back home" Scene can then play as soon as you arrive home. If you don't already have Scenes set up in the Connected app, you can create them while activating Triggers.
For the entire family
Home Triggers don't have to apply to just you. They can activate Scenes when the last specified user leaves or arrives home. This is an ideal setup, especially if you have children who leave home after you, and tend to leave things on. The only requirement is the user needs to have shared control of your home via the Connected app (you can find directions on that feature here).
If your kids are invited to share control of your home via the Connected app, you can set up a Home Trigger that shuts everything down when they leave home — just in case they forget.
You can specify "Active Times" — when you want your Home Trigger to fire and activate a Scene — during the setup process in the Connected app. There may be times when you don't want your Home Trigger to activate a Scene, like if you step out for a walk around the neighborhood in the evening and don't want your home's lights to shut off.
As always, if you have any questions, don't hesitate to reach out to our U.S.-based customer experience team: support@idevicesinc.com
Follow us on social for the latest news and helpful tips that can help make your home smart to the core.