The holidays are a great time to give back to family and friends. Even if you can't get together, you can still give the gift of a smart home from afar.

From improving home efficiency to helping with their new home office, these gift ideas will immediately upgrade any home, including your own.
Home Routine
From the kitchen to their new home office and classroom, make their entire house high-tech so they can streamline their daily routine.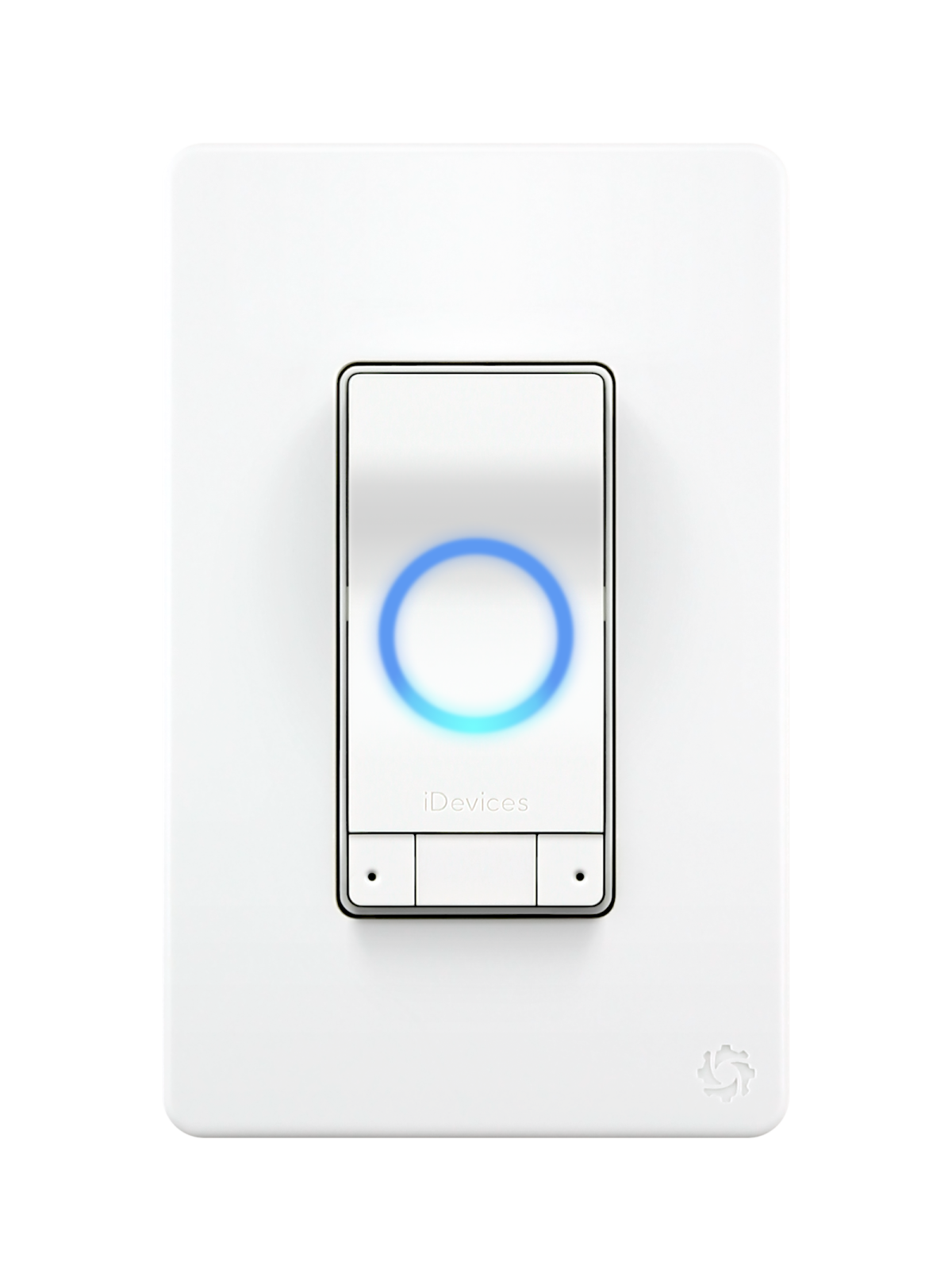 With Alexa inside this smart light switch, Instinct provides access to a voice assistant without cluttering up a workspace or kitchen countertop. Alexa can play relaxing music for creative energy, or something a little more fast-paced to help make that looming deadline.
Alexa can provide custom notifications, such as to prepare for that big meeting later in the day, or to step away from the screen for regular water breaks and walks.
In the home classroom (or living room), Alexa can serve as a teaching assistant. There are numerous free Alexa Skills (like apps you download on your phone) that can provide an interactive, guided, and entertaining learning experience for any age group.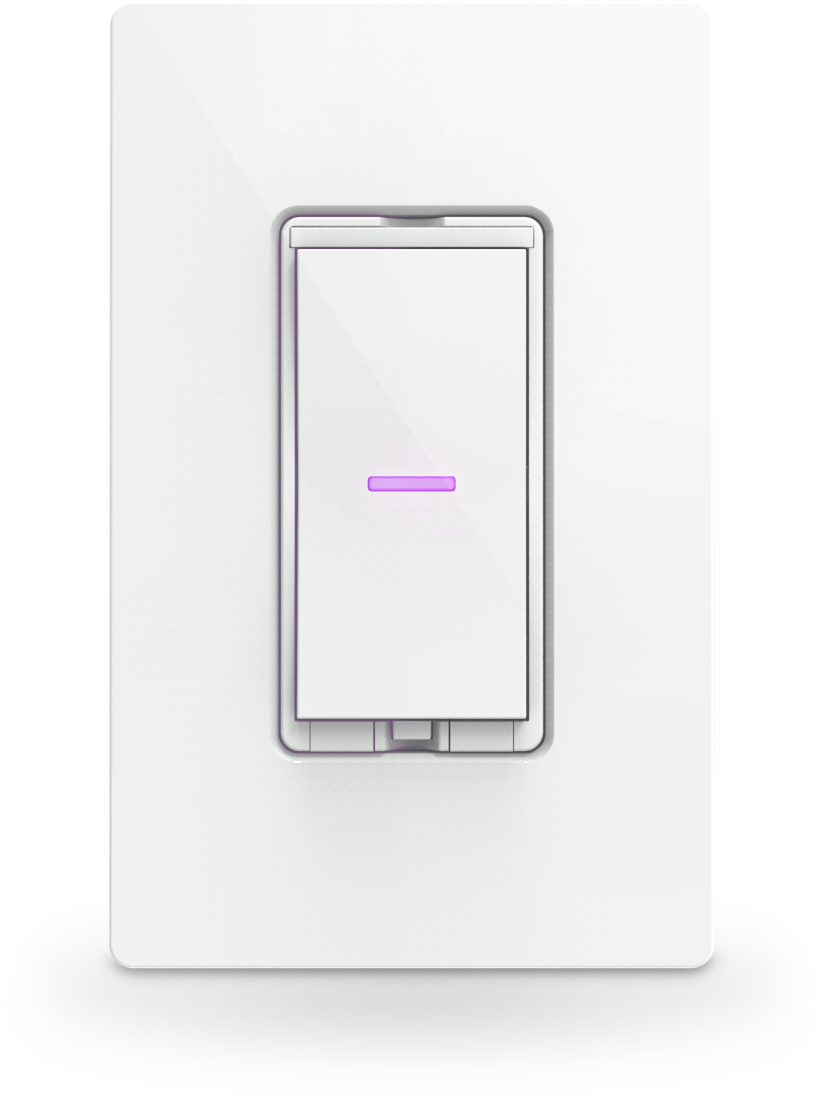 Our homes weren't designed to be offices, so adjusting can be difficult. Smart lighting can help! With Dimmer Switch, you can set the brightness to automatically adjust for a clear transition from work life to home life.
Homeowners can set their office lights to turn on when their workday begins, and have them turn off at lunch. At the end of the day, kitchen lights can be set to automatically brighten for dinner prep. As part of an Alexa Routine, Instinct can also start playing music in the kitchen.
Dimmer Switch can help shine light on home learning and child care. Set the lights to dim for a dedicated quiet time, and brighten for reading hour. Use a voice command to brighten Dimmer Switch on demand if there isn't enough natural light on a given day.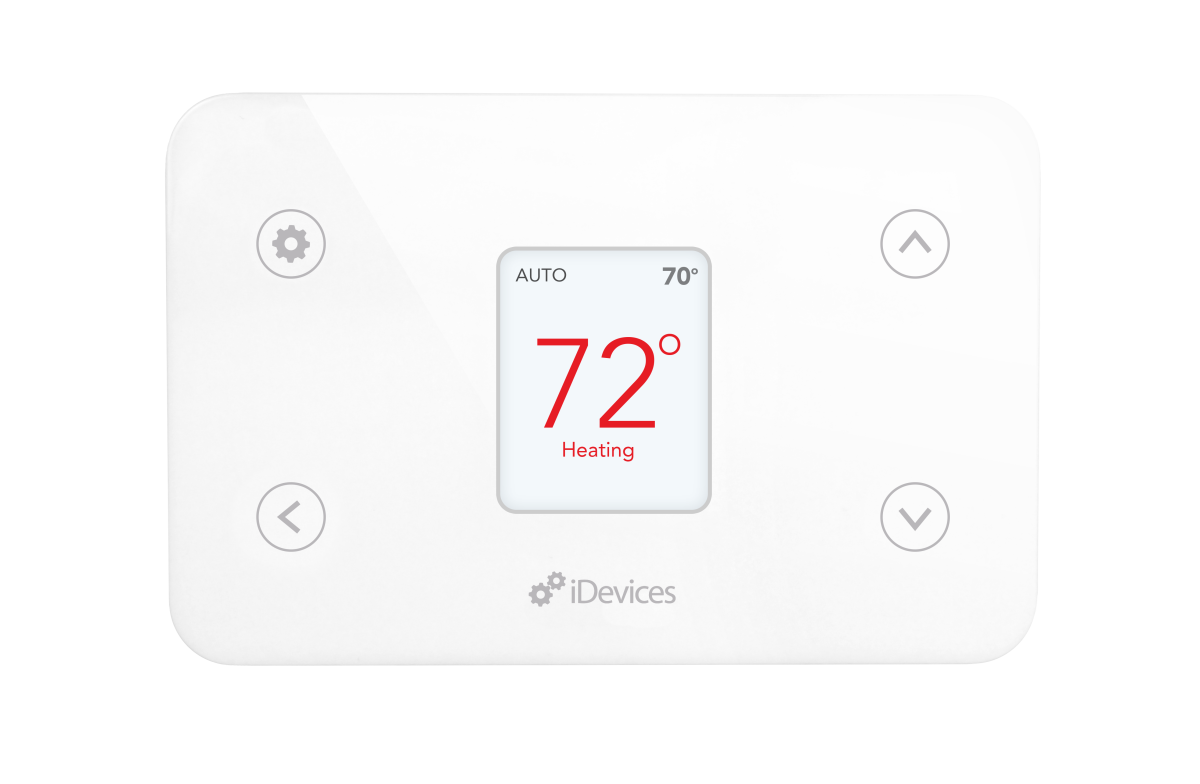 Make comfort a priority at home. With a simple voice command, homeowners can quickly check on the temperature of their home office and learning areas, and make on-the-go adjustments as they jump between virtual meetings.
Homeowners can incorporate Thermostat into daily Scenes/Routines so the temperature automatically adjusts throughout the day based on their schedule. When work or school begins, the temperature increases by a few degrees for comfort, as the lights simultaneously brighten and Instinct reads off the latest news and weather headlines before playing classical music for concentration.
With our IFTTT service, homeowners can create automations that connect iDevices products with hundreds of apps, websites, and services. For example, an email can be sent to your inbox if the temperature is adjusted outside a certain range. A great use-case for those working from home is setting the temperature to automatically adjust when leaving and arriving home. If there's a random errand or appointment in the middle of the day, the heat won't blast while the house is empty.
Energy Efficiency

Give every homeowner on your list the gift of a more efficient house.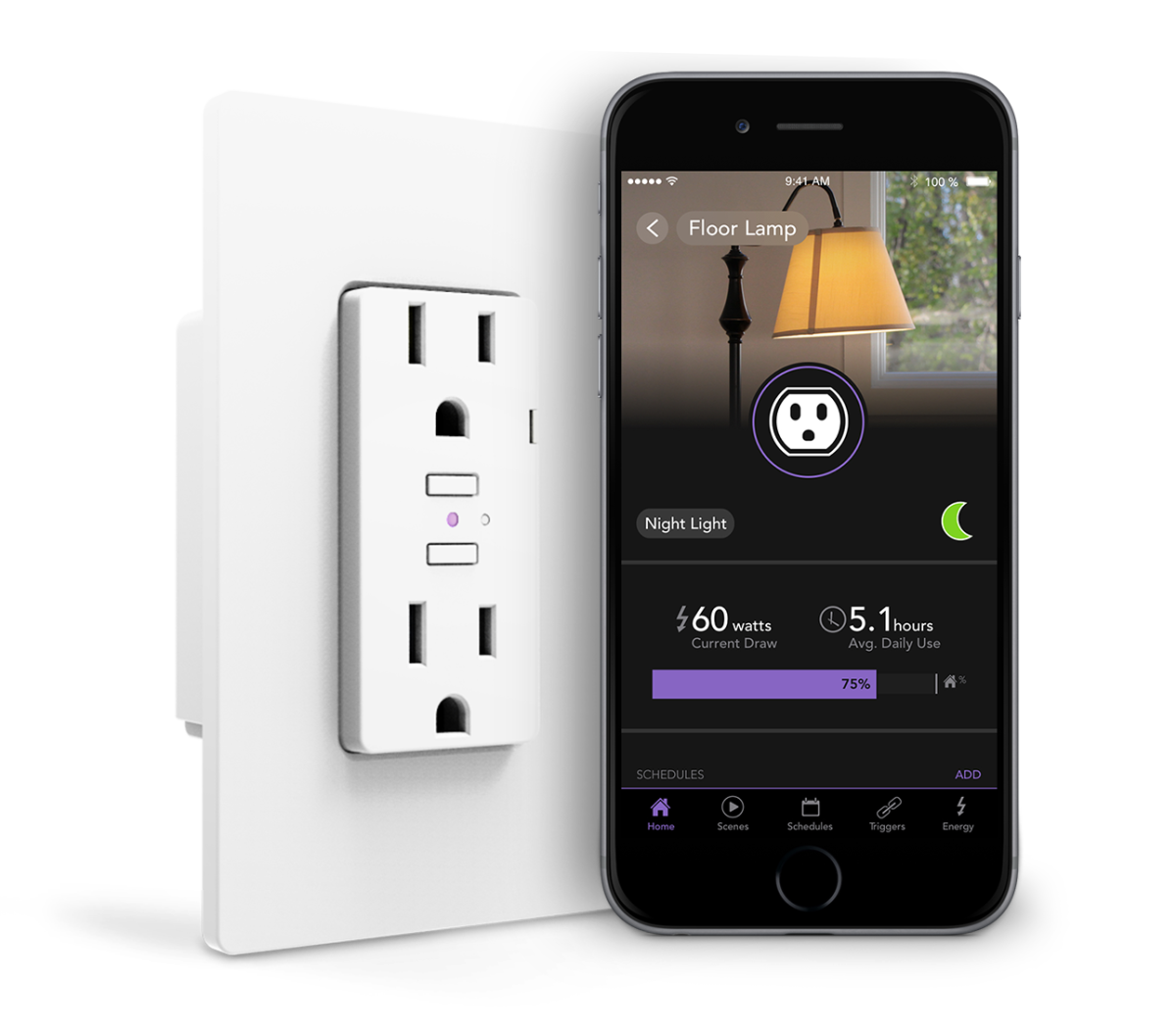 This Wi-Fi outlet features in-depth energy monitoring within the iDevices Connected app. While some competitors only offer a product with one smart receptacle, this product features two smart receptacles homeowners can control and monitor independently. Think of Wall Outlet as two smart products in one. Whether it's a lamp, fan, phone charger or laptop — really, anything one would plug in at home — homeowners can access real-time energy insights in the iDevices Connected app.
Energy reports in the app are accessible from anywhere, at anytime, on both iOS and Android devices. Homeowners can monitor the real-time power draw of anything plugged into their Wall Outlet, as well as the hours in use and estimated cost. These figures are broken out by day, week, month, year, and all-time.
Homeowners can get the most accurate energy reporting data by enabling location services in the iDevices Connected app. The app will show them an energy report using the average energy rate for their state or province.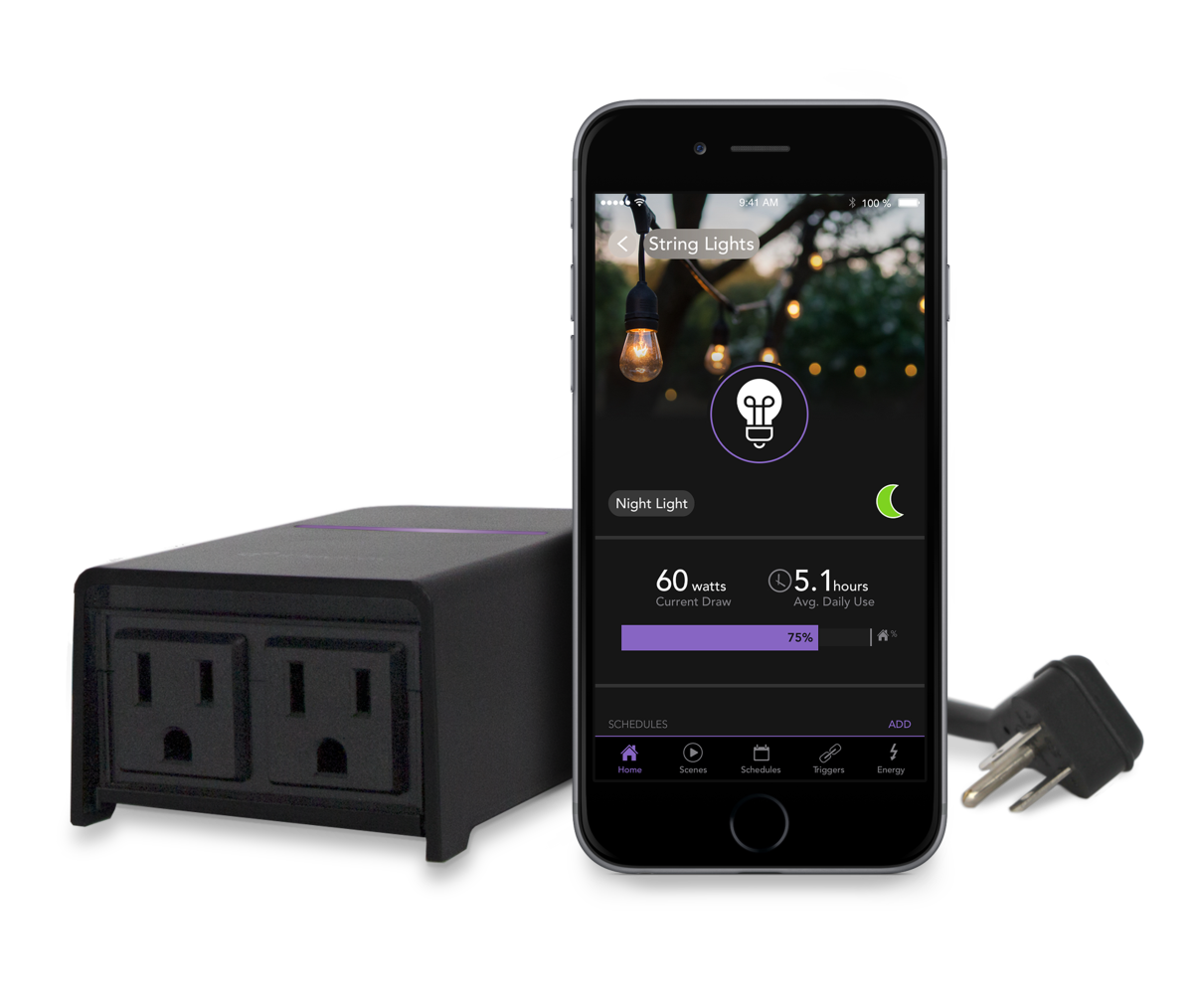 Outdoor Switch is very similar to Wall Outlet, but rain-tight and weather resistant for outdoor use.
With Outdoor Switch, homeowners can track how much energy their holiday lights and decorations are using and set schedules so they don't go overboard. In the summer, homeowners can connect accessories like patio lights, fountains, and pond filters.
Energy reports in the app are accessible from anywhere, at anytime, on both iOS and Android devices. Homeowners can monitor the real-time power draw of anything plugged into their Outdoor Switch, as well as the hours in use and estimated cost. These figures are broken out by day, week, month, year, and all-time.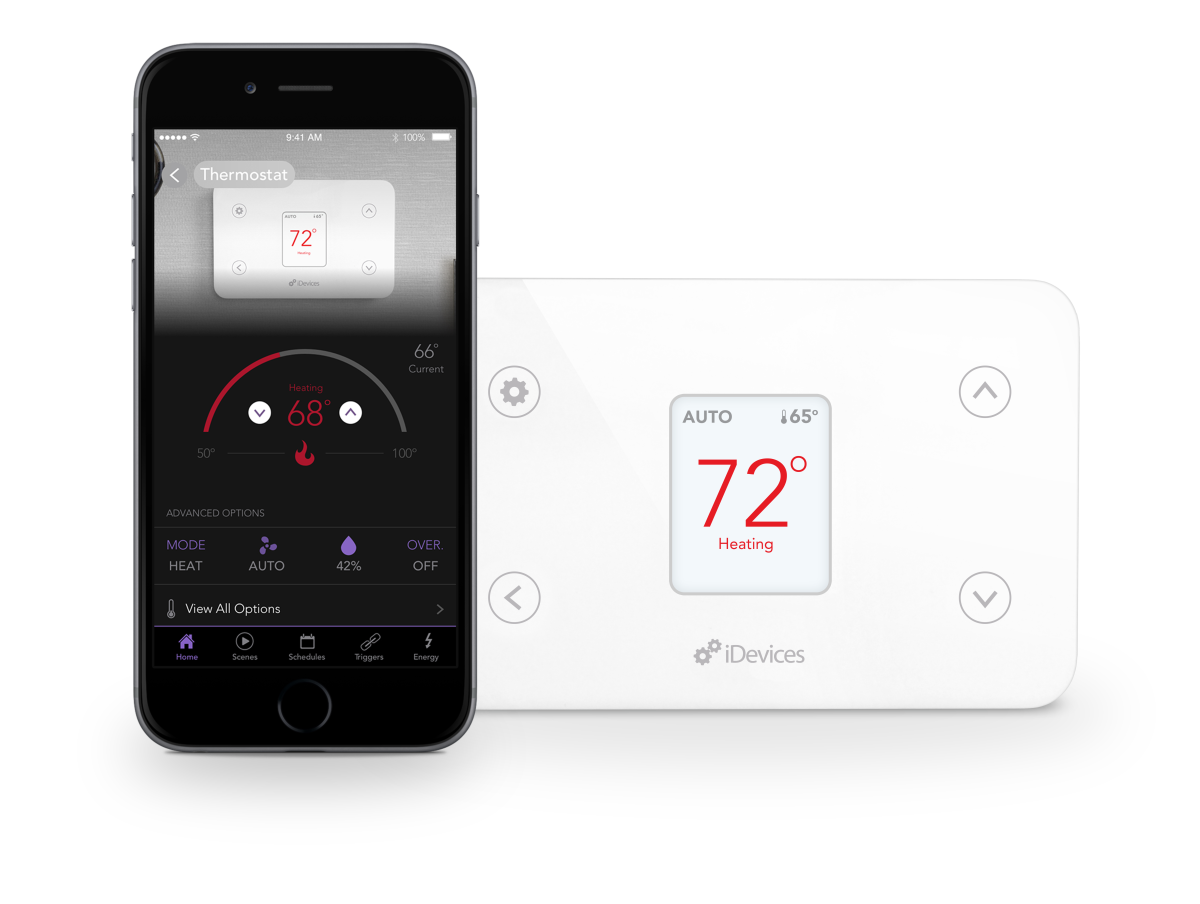 On those cold winter days, it's tempting to crank up the temperature. With Thermostat, homeowners can keep their HVAC system in check by setting up daily schedules (up to 24) and automations that balance comfort and efficiency. Thermostat also features convenient built-in controls like preheat/precool.
Cutting costs with Thermostat doesn't mean cutting into comfort. Shaving at least 10 percent off your annual energy bill is simple, according to the U.S. Department of Energy; set Thermostat back 7-10 degrees from its normal setting for just 8 hours a day.
Thermostat can also be automated through Scenes (HomeKit), Routines, and IFTTT for worry-free and efficient control based on a homeowner's location.
Peace of Mind
Greater safety and security at home is a truly priceless gift for any homeowner. An overarching benefit of iDevices smart home products is voice compatibility with Siri, Amazon Alexa, and the Google Assistant. Asking a voice assistant to dim the lights and adjust the temperature is a convenient home feature, but there's a safety benefit too: the hands-free nature of voice control can help prevent the spread of illness.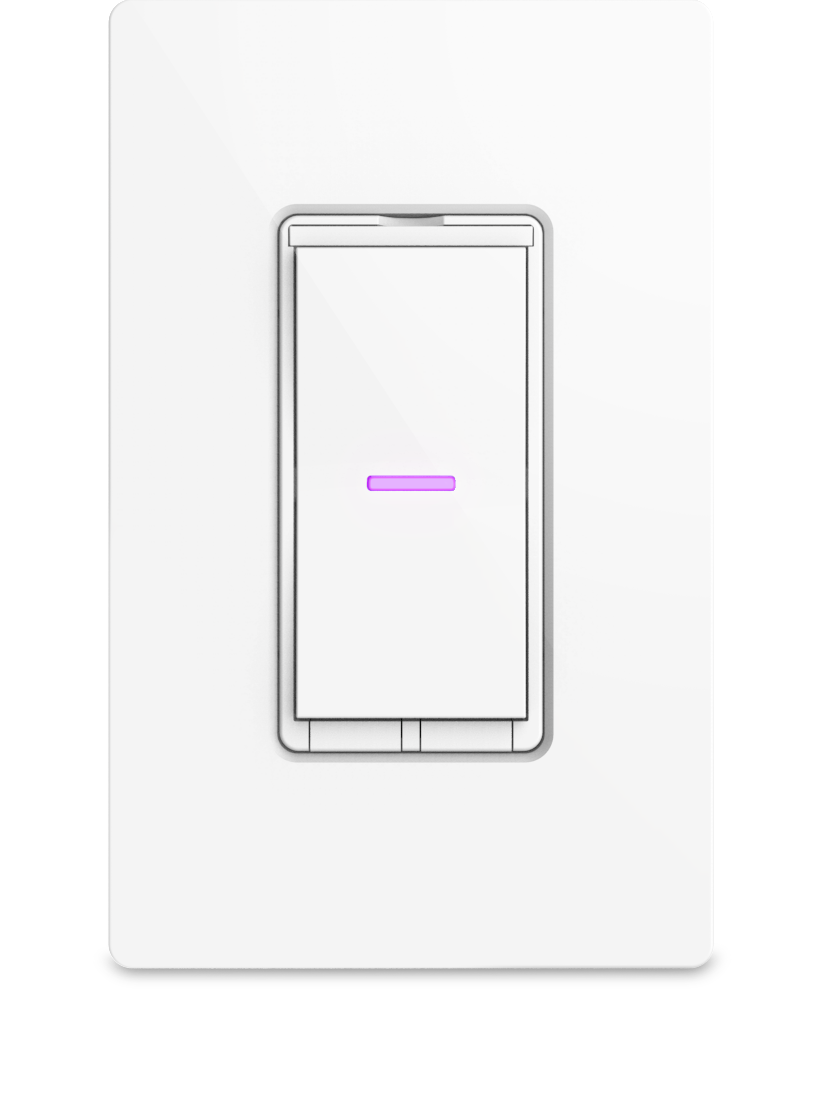 Our smart lighting products aren't just about convenience. Homeowners can utilize Wall Switch (Dimmer Switch and Instinct, too) to control interior and exterior lighting for extra security at night (the curb appeal can't hurt either).
Sunrise and sunset automations are one of the easiest ways to improve security. Homeowners can set their lights to turn on at sunset, or just before, and have their lights turn off at sunrise, or shortly after. As daylight adjusts throughout the year, so do these automations. No matter the time of year, they'll always arrive home to a well-lit house.
Another option for those exterior fixtures is an automation we refer to as a Trigger in the HomeKit world. There are similar automation options through Amazon Alexa and Google Home Routines. With a Trigger, a certain action — like someone arriving home — triggers a Scene, another HomeKit feature giving homeowners the ability to control multiple products with a single command. Homeowners can set location-based triggers so all of their lights turn on when they pull into the neighborhood.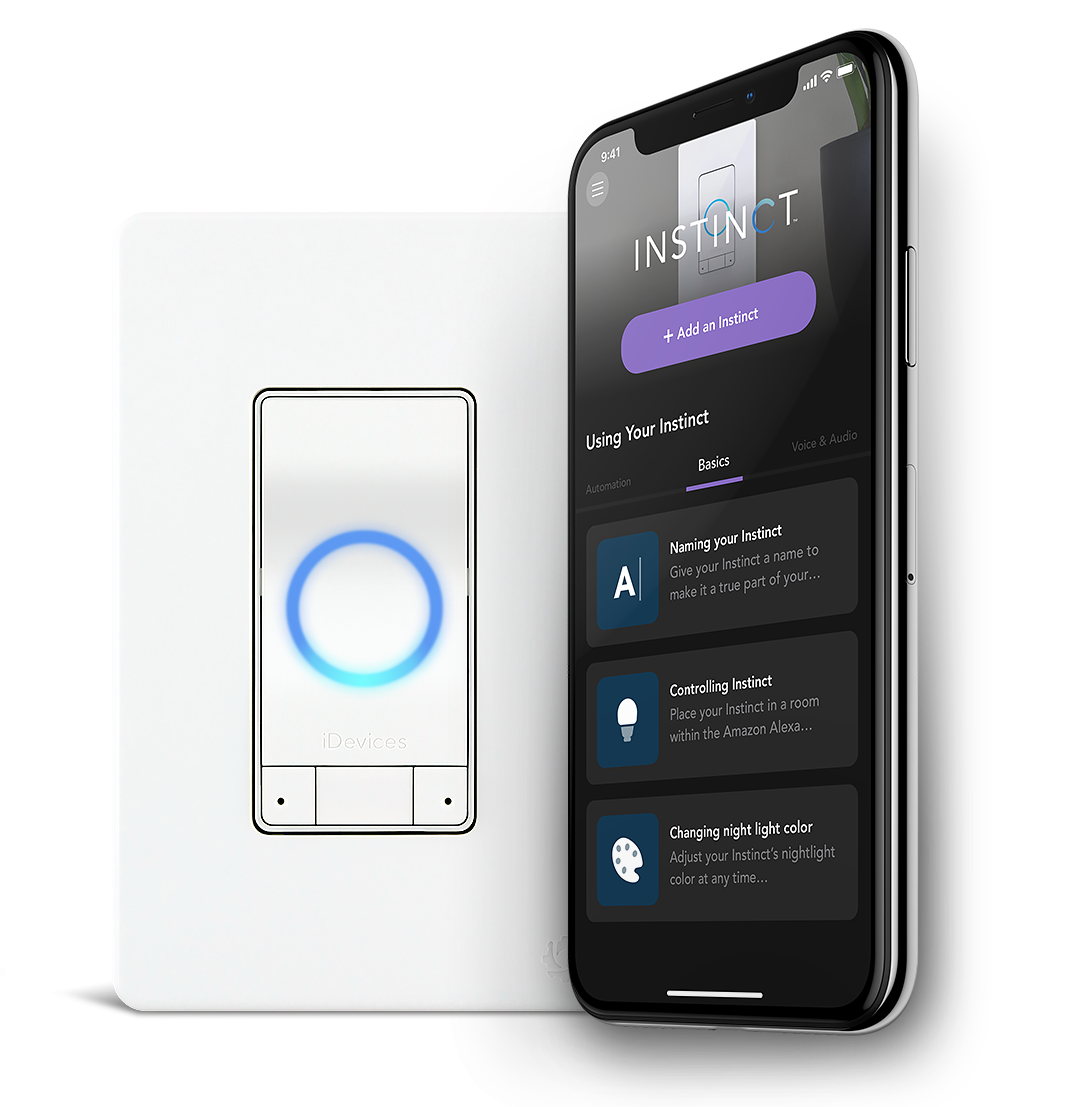 Besides the smart lighting benefits mentioned above, Instinct is an Alexa device. There are several features as part of the Amazon Alexa platform that can be used for peace of mind. Instinct can broadcast notifications when the kids make it to school, or arrive home at the end of the school day. This feature can be achieved through an Alexa Routine.
Instinct is also compatible with Announcements, giving homeowners the ability to communicate in real-time through any Alexa device or the Amazon Alexa app. Think of this feature as a one-way intercom.
When a user makes an Announcement, the message is repeated on every Instinct and Alexa device in the household, in addition to the Amazon Alexa app, as long as everything is connected to the same Amazon account. So someone leaving work could say through the Amazon Alexa app: "Alexa, announce that I'm stuck in traffic and will be late picking up the kids from daycare." That message would immediately broadcast through every Instinct at home, making sure everyone is aware.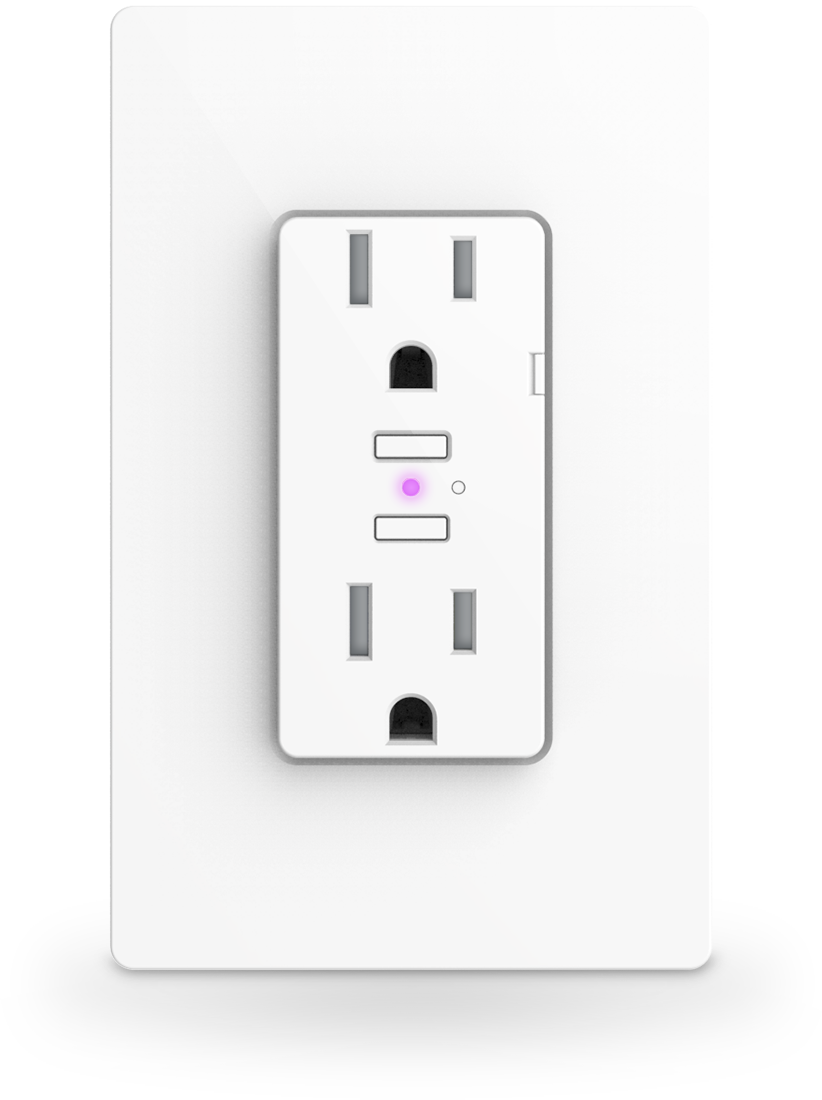 Wall Outlet's two Wi-Fi receptacles work independently through a homeowner's mobile device and voice (in addition to the old-fashioned way). Similar to Wall Switch and our other smart light switches mentioned above in this section, Wall Outlet can provide smart lighting for additional security.
While homeowners are away, they can set lamps in their house to turn on at sunset or random times in the evening so it looks like someone is home. They can also incorporate lamps into lighting scenes with their iDevices smart light switches in case they want their lights to turn on as soon as they arrive home or leave certain locations, like the office.
Entertainment

Upgrade their home with interactive tech that makes entertaining fun and smart.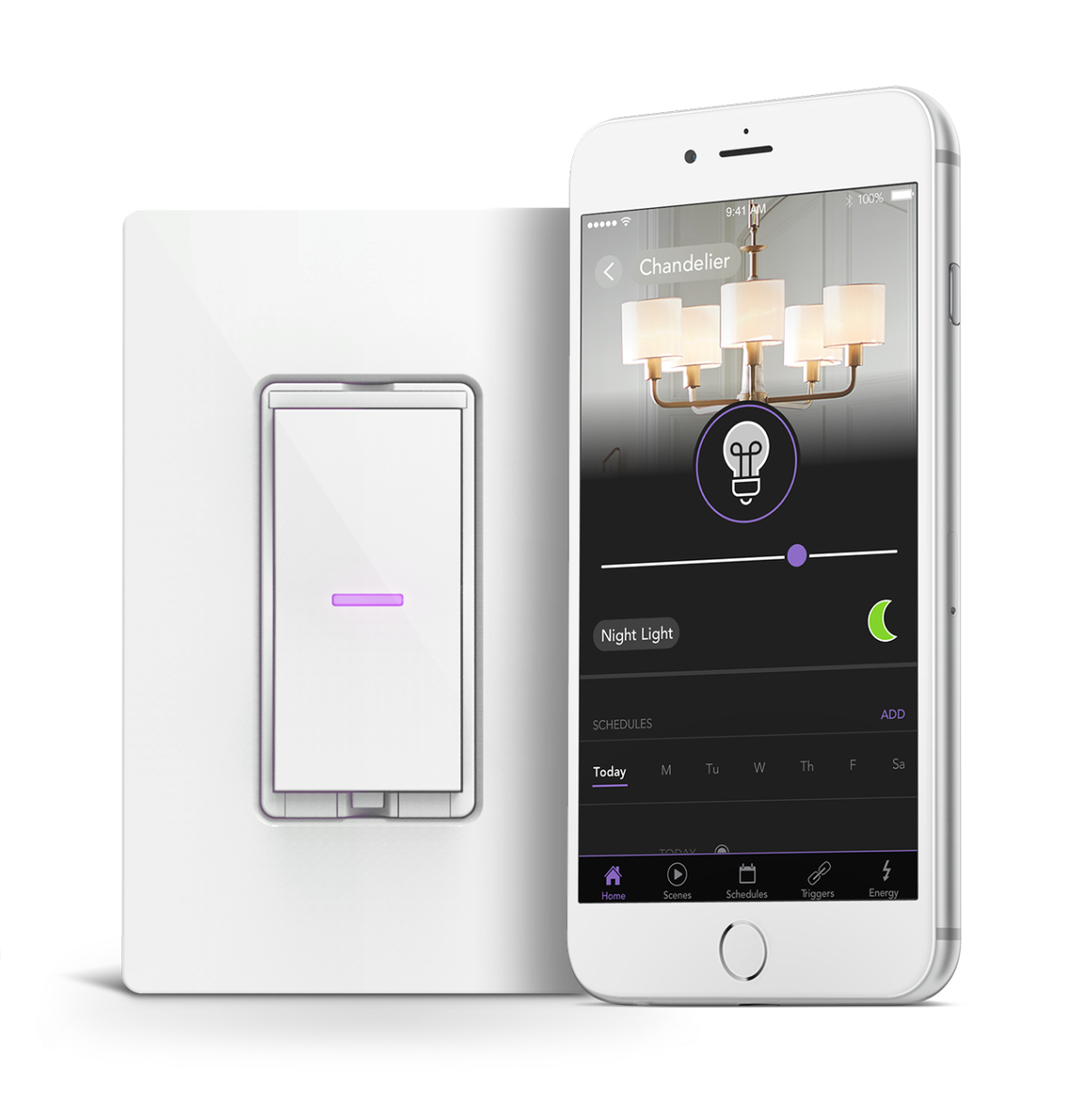 Homeowners can set custom lighting scenes with Dimmer Switch to make movie night and family gatherings extra special this holiday season.
A voice command like "Siri, it's movie night" can automatically dim the lights for that movie theater experience, while a simple "Alexa, it's family night" can set the mood for a family dinner or game night around the table.
It's the little things that can help make their home extraordinary.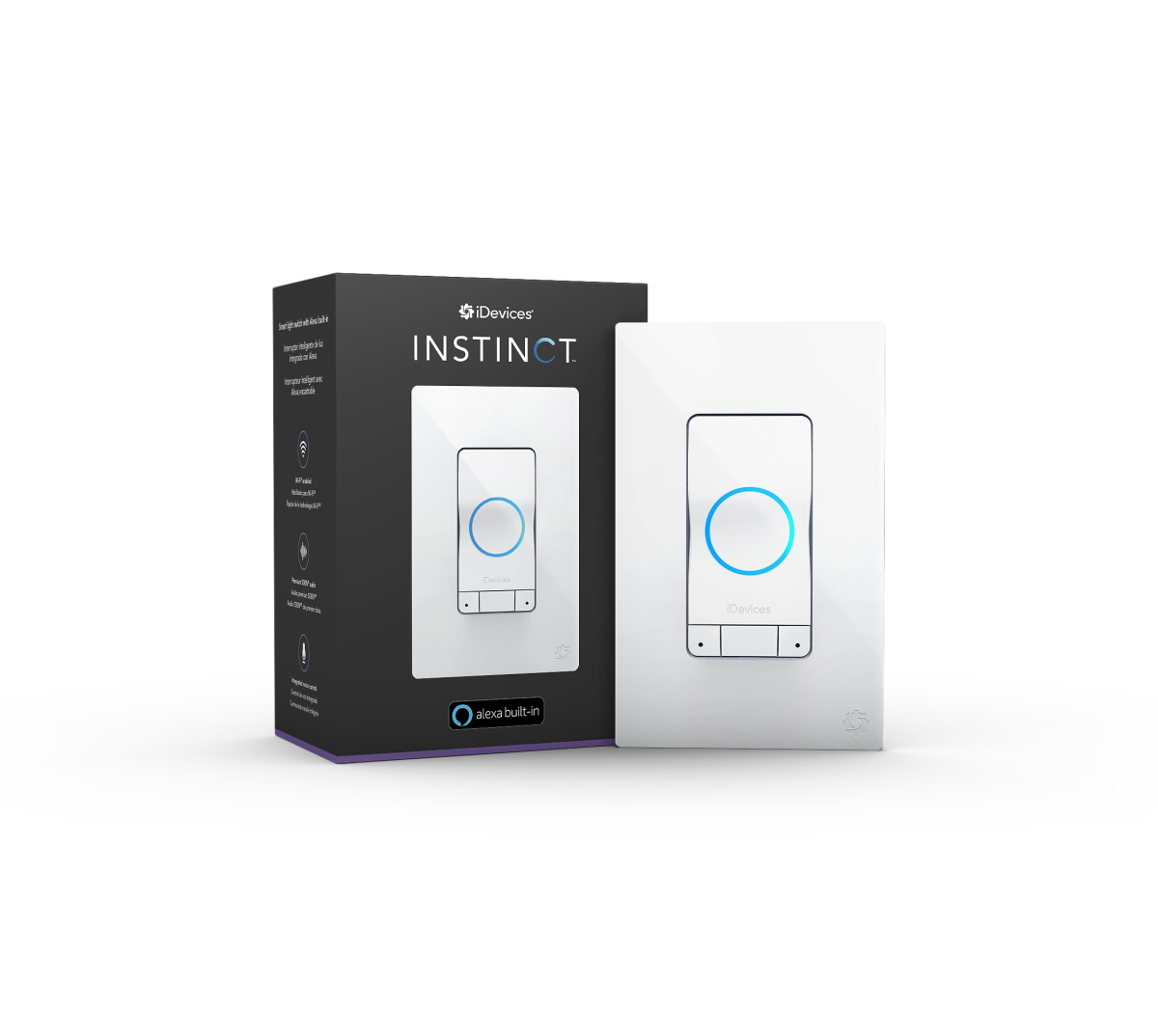 Listen to music while cooking, enjoy an audiobook on a lazy afternoon, or play a wide variety of interactive games — all with this smart light switch. It sounds far-fetched, but with Instinct, you don't need a separate smart speaker or device. Plus, you're removing cords and clutter from your countertops and tables.
Homeowners use Instinct to play just about any type of game you can think of: role-playing, choose-your-own adventure, educational, strategy, tabletop, puzzles, quizzes, humor, mystery, and more. They can access these games by turning on Skills, which are just like apps on your phone. Enable Skills with a voice command, or in the Amazon Alexa app. There are thousands of games to choose from, for every age group. So the next time they have a game night, they can gather around the table and use Instinct to make the experience interactive and easy.
Since Instinct is an Alexa device, it can be used to interact with other Alexa devices in the home, such as a Fire TV. Homeowners can use voice commands to Instinct to browse, play, pause, and turn the Fire TV on/off.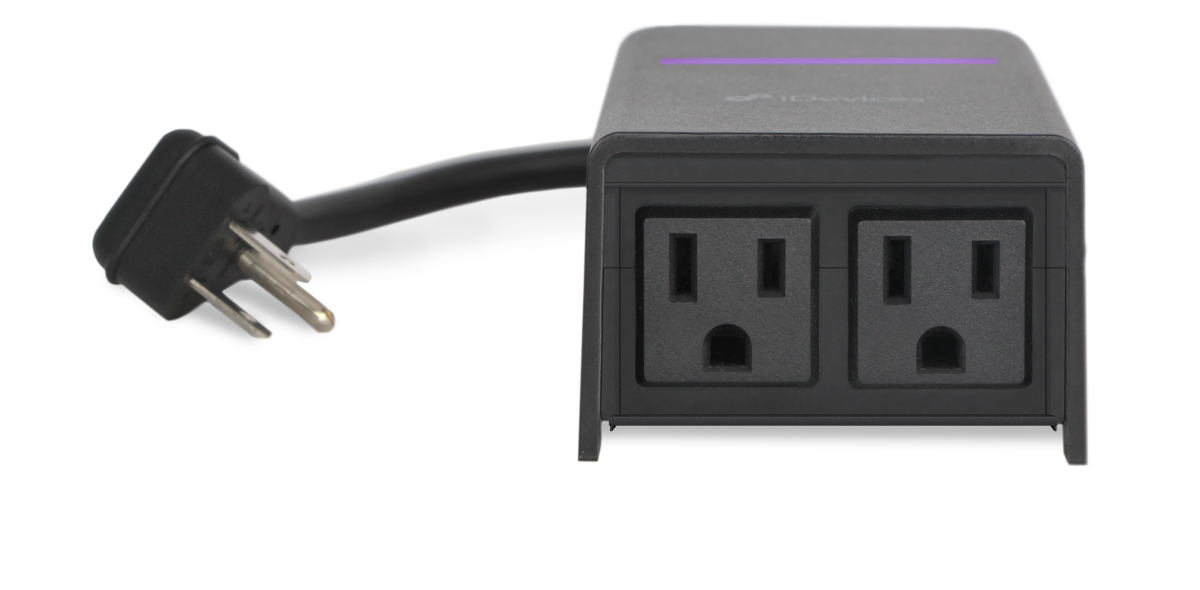 Homeowners can put their holiday lights and decorations on auto, and create the perfect backyard oasis for entertaining next summer. With Outdoor Switch, they gain app and voice control, plus hands-off automation capabilities. Their neighbors will certainly be jealous.
---
Black Friday deals will be live soon. Visit our website and sign up for our email list. We'll keep you in the know! >> https://idevicesinc.com
Bonus

Watch the video below to learn how you can make the everyday extraordinary for every homeowner on your list: